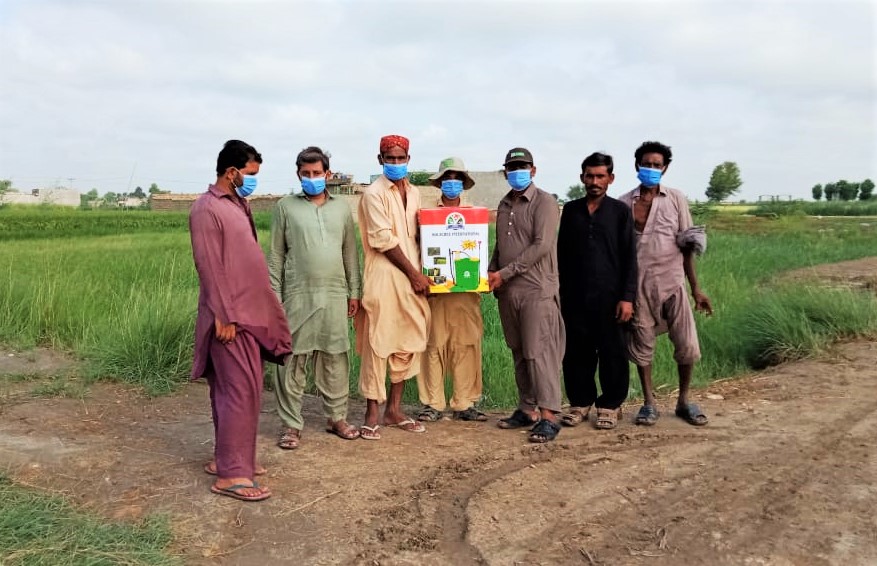 In agriculture, cotton crop plays a vital role in the economy of Pakistan as the fourth biggest producer in the world behind China, India and the United States. But cotton yields and livelihoods are at risk from a range of pests such as Whitefly, Thrips, Cotton Mealybug, Pink Bollworm, and other sucking and chewing type insects.
To save the product from these insects, the spray machine plays an important role for pesticides. Farmers use manual spray machines which are not applicable as per standard protocols. CABI is taking a lead on promoting the use of and providing these spray machines to provide benefits to its Better Cotton Initiative (BCI) farmers.
The agricultural extension department within the Government of Sindh is also supporting the poorer farmers of Sanghar district by providing a subsidy to allow the purchase of these electric spray machines thanks to linkages developed with the agri-extension officials by the CABI field team.
In total 28 farmers have benefitted from this scheme and received a pesticide spraying machine on the payment of 33% of the actual cost. The remaining amount was paid by the Government of Sindh.
Mr Jewan Khan is one of the farmers who has benefited from the collaboration. He said, "I used to grow cotton every season but I faced some loss due to peptides. Due to the high cost of the spray machine (Rs 4,500), I couldn't purchase it and I was unable to spray my cotton field as per standard with a manual spray machine. Therefore, I could not save my product from pesticides and couldn't earn the actual cost of the product the same as the others."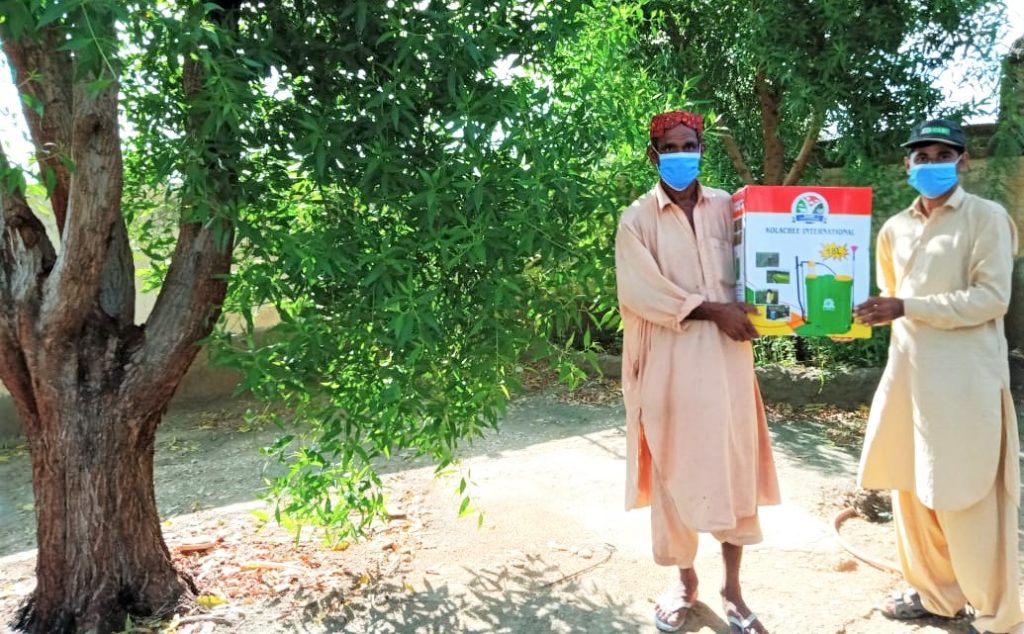 Mr Khan added, "Later I came to know that the Deputy Director Agriculture (DDO) Agriculture extension is providing that spray machine to some farmers who meet their criteria but, being a common person, I felt very shy to visit the agriculture department and ask them about their formalities.
"I always thought about applying for this spray machine but could never dare to initiate. Once I discussed this matter with CABI representative Mr Shafi Muhammad (Producer Unit Manager) and Field Facilitator Dilnawaz Talpur, they guided me through the procedure and fully supported me to submit all the documents as per requirement.
"One day I got a call from the agriculture extension office notifying me that I have fulfilled all the requirements and I meet their criteria so I can receive my spray machine from their office. I was so excited to receive that machine. I went to the agriculture office and received that machine in just Rs 1,451 which otherwise costs Rs 4,500 in the market. Now I can spray my product as per standard protocols."
Mr Khan said that he wanted to thank CABI for its role in the Better Cotton Project in Sanghar and that without their support he would not have been able to purchase the spray machine.
"I always had a dream to get this machine but CABI makes my dream come true," he said. "Now I can save my product from pesticides and generate more products which will increase my income."
Related News & Blogs
CABI's digital data expertise has been showcased through a project in Punjab, Pakistan, and will help smallholders in the fight against crop pests. The project is called: 'Strengthening food security post COVID-19 and locust attacks,' and will he…
30 August 2023