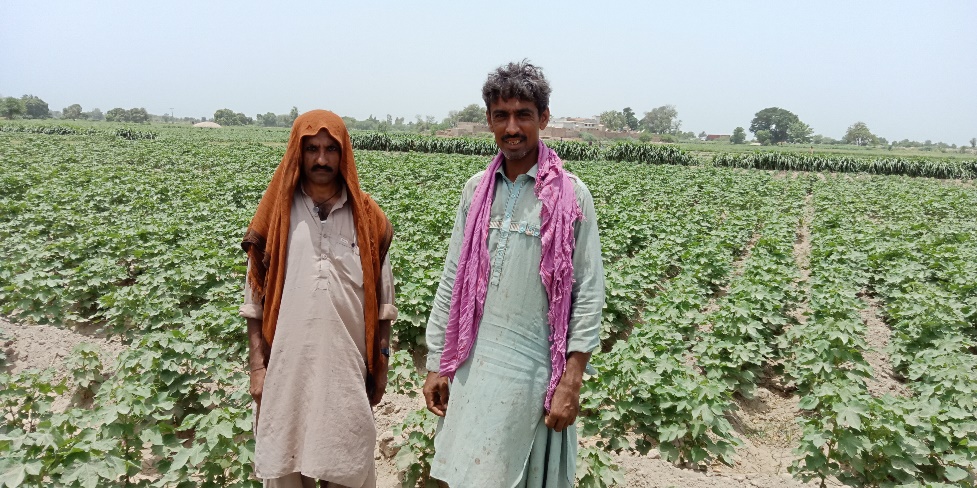 In part one of 'CABI on cotton' we heard about 100 Pakistan cotton farmers, as part of CABI's Better Cotton Initiative (BCI), attending a seminar on integrated pest management. In part two, we hear a couple of success stories from farmers on how taking part in BCI is helping them produce better cotton.
The famous farmer
Shahbaz Ali Soomro has been part of the Better Cotton Initiative (BCI) since 2017 in Matiari district in south east Pakistan. Matiari District is the main cotton producing area of Sindh province.
Before BCI, Shahbaz Ali's cotton crop was seriously damaged by Pink Bollworm which he treated with regular pesticide application. Despite his best efforts, he struggled to tackle the pest and protect his crop producing 30% less than in unaffected crop years.
Shahbaz Ali decided to seek assistance through BCI. Commenting on the advice he received, he said, "I have recently adopted the good practices shared by a CABI Field Facilitator. Before sowing the cotton crop I conducted soil tests which found that I was using an imbalance of fertilisers".
Under the initiative, he was trained on soil test and pest management technologies by a CABI expert. As a result he reduced his fertiliser use by 40% and entirely eliminated pesticide use.
Shahbaz Ali continues, "Using the results of the test I only needed to apply fertiliser once this season. For managing insect pests I only used yellow sticky traps, cold-water sprays and  border crops around the cotton field. The next step is to install homemade light traps for other cotton pests. I hope that I will never need to use any synthetic pesticide to control insect pests on my cotton crop".
Because of his pioneering farming practices Shahbaz Ali has found fame amongst local cotton growers. In 2018, he became Lead Farmer of the local BCI Learning Group tasked with training small scale farmers and farm workers in the area on sustainable cultivation techniques and technologies. His farm is now a popular destination for BCI Learning Group members and non-members alike.
The compost king
Shah Muhammad Dahri is a smallholder cotton farmer living in the remote village of Sandhan, Matiari District. He's always been on the front foot in practicing the most innovative techniques for growing his cotton crop.
CABI's BCI project team suggested Shah Muhammad composts his own farm waste to spread on the cotton fields as organic fertiliser. He was enthusiastic to try this new technique and immediately began collecting farmyard manures, sugarcane pulp, poultry manures and other green waste into a heap.
Guided by the CABI Field Facilitator he left the heap to decompose for three months applying it to the soil before sowing the cotton seed.
As the crop grew the benefits of his composting work became clear. He was able to cut his synthetic fertiliser use by 75% compared to previous compost-free years. Additionally he saved at least two bags of Diammunium phosphate, another type of synthetic fertiliser linked to skin irritation and toxicity for aquatic life.
The use of compost also saved on water by cutting down on two irrigations over the growing season.
Besides saving fertiliser costs and reducing water consumption, the quantity and condition of his crop has also improved. He is expecting 200kgs more yield per acre than last year. This resulted in a 17% increase in income, providing greater financial security for Shah Muhammad and his family.
The successful adoption of practices promoted by BCI boosted Shah Muhammad's interest in the programme, saying, "Compost application on my cotton crop not only increased yield per acre but also improved the quality of my cotton."
Rauf Ahmad Khan Laghari, BCI Project Manager, CABI, explained that, "CABI is working hard to introduce environmentally friendly and farmer centered techniques to achieve the goal of better cotton production".
Related News & Blogs
Pakistan is the world's fourth-largest producer of chillies. The country accounts for around 4-5% of global chilli production. Sindh province is where 85% of Pakistan's chillies are grown, making it one of the biggest chilli-producing regions worldwide…
9 November 2023