According to "research" by Plants4Life, a UK organisation set up to promote plants in the home and the office, "It is a fact that houseplants love a good chat!" and Liverpool accents in particular.
The organization says, "Research has shown that talking to our houseplants can help them to grow big and healthy but no one has ever discovered which accent plants like to listen to the most. Nine plant-lovers from different areas of the UK and Ireland were each given their own spiderplant and tasked with talking to it every day for a month…to find out which regional accent helped plants to grow the fastest."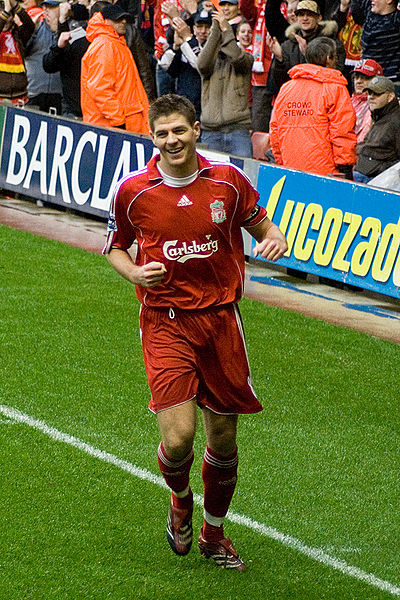 Steven Gerrard, Liverpool footballer and potential horticultural stimulant (photo: Nigel Wilson)
As a proud Liverpudlian, I was delighted to hear that the "scouse" accent came out top, with the highest plant growth levels. It's been suggested that this was because people from Liverpool tend to speak more quickly, and that they therefore expel more carbon dioxide, which promotes plant growth. However, some other trials that purport to show a link to speech were based on playing recorded sound.
In 2009, The Royal Horticultural Society reported that a tomato plant listening to a recording of Sarah Darwin, great-great-granddaughter of Charles Darwin, reading his "Origin of Species" grew better than controls and those listening to recordings of Shakespeare's "A Midsummer Night's Dream" or John Wyndham's "The Day of the Triffids". Colin Crosbie, superintendent at the RHS's Wisley garden said that women's voices came out ahead of men's in terms of growth promotion.  "We know that sounds of between 125hz and 250Hz can affect gene expression in plants and help them grow but this has only been tested using music," he said.
Plants4life do not give a detailed regime for controls, the plant environment or care given, and the sample size is somewhat "titchy", and searching the CAB Abstracts database suggests there's not much peer-reviewed literature to back up the idea. There are papers that suggest a link between playing music and plant growth.
For those not familiar with a Liverpool accent, Plants4life provide a sample http://soundcloud.com/plants4life/plants4life-scouse-accent. But if you'd like me to come round and talk about Stevie Gerrard, The Beatles  or maybe sing "Ferry 'Cross the Mersey" to your houseplants, do get in touch.
Related News & Blogs
A recent AoB blog caught my eye (ear?). Do plants respond to music? The blog refers to an experiment in which plants were assembled in Cadogan Hall, London for a 3-hour recital performed by the UK's Royal Philharmonic Orchestra to investigate the effec…
22 November 2011