How can you grow your career as a woman in science? In line with CABI's strategic goals to empower women, we've interviewed a series of professionals who've worked or collaborated with CABI to share how they got to their current position, giving tangible advice to others looking to grow their careers.
In today's blog, we talk to Djami Djeddour – a scientist at CABI focusing on weed and arthropods (insects and spiders) control using fungal pathogens and insects. Regularly publishing papers, she has undertaken international field work in over 10 countries, and has practical experience of quarantine lab studies.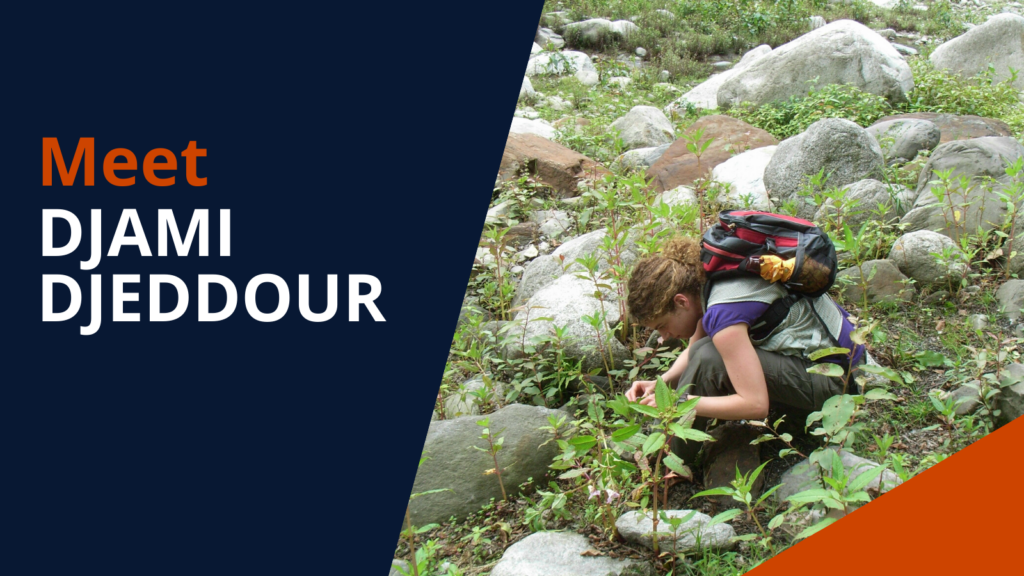 What's your definition of a Senior Scientist?
Essentially I'm a senior member of a team of scientists focused on the management of plants introduced from other places which cause economic or environmental harm in their new habitats. My particular expertise lies in using insects and fungi to control these non-native invasive weed species (an approach which has been used around the world for over a 100 years, but is relatively new in Europe). Day to day, I'm responsible for developing, managing and implementing these biological control projects for the UK and international sponsors, leading small teams of scientists.
What does an average day look like in your role?
My day to day tends to involve a mix of lab/field and desk work. At the moment I'm spending a lot of time in our quarantine facility (dressed in hazmat suit, hairnet and since the onset of the pandemic, mask too), rearing weevils from Argentina which specialise on one of the UK's worst aquatic weeds, floating pennywort. They're a hungry lot and in order to have good weevil numbers to release into the wild in the spring and summer when the weather warms up, we need to keep stocks going over winter and make sure they have fresh and healthy plants to develop on. It's a hugely exciting time because this is only the 4th biocontrol agent to have been approved for release in the UK/Europe. Releases will take place this year and it's the culmination of a decade of collaborative research to find the best agent and make sure it's safe and effective.
When I'm not in the lab tending to insects or in the field collecting plant material to feed them, I'm at my desk, writing reports, papers or preparing bids to fund more research.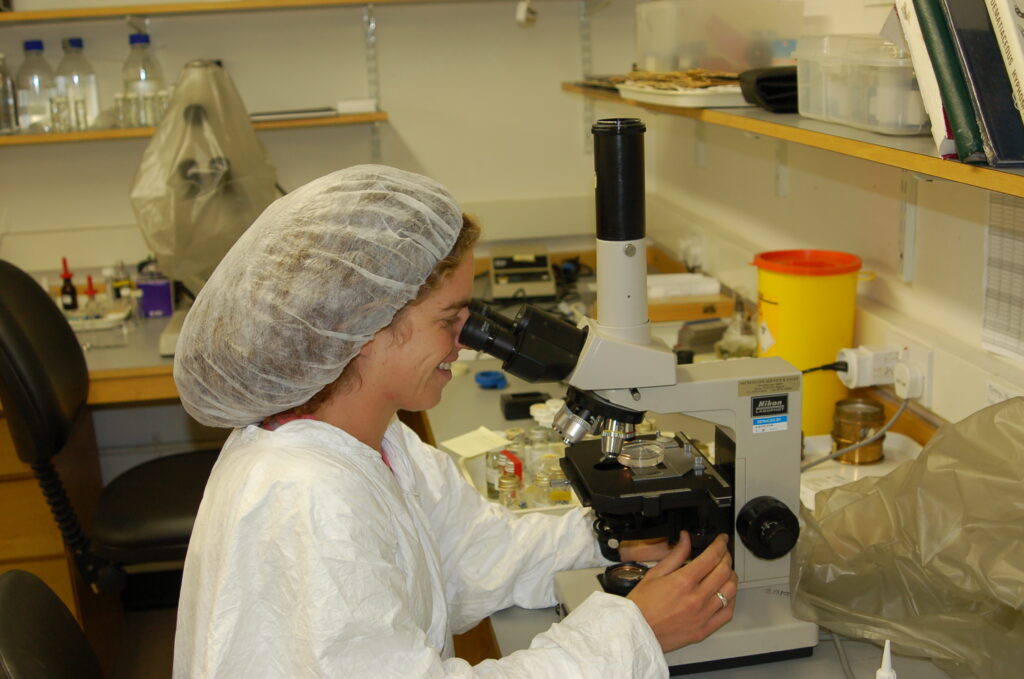 What do you most enjoy and find most challenging about your job?
Work as a researcher can be repetitive but there's also scope for great variety and ongoing training on the job to learn new techniques and skills which helps keep things exciting and rewarding. The exploratory phases for new weed biocontrol projects are always enjoyable and, whilst working in different countries brings about all sorts of logistical, administrative and sometimes physical challenges, I still feel incredibly fortunate to have these opportunities to see and experience the world through a different lens and build collaborative relationships with people that often last a lifetime. Knowing that you are one of the only people in the world working on a particular species is quite thrilling.
The challenges for me lie in navigating and juggling the growing expectations faced by scientists progressing in their careers. You need to wear many hats, be it successfully delivering research, writing papers, lecturing, fundraising and budgeting, whilst also learning to manage staff and being able to communicate and negotiate with people from every sector of society, from high level bureaucrats, the media to passionate land owners. The pandemic has of course brought with it a whole new landscape and we've all had to adapt as best we can to keep up our research, networking, field work where possible- all of my overseas work has pretty much been on hold for a few years now.
Are there any parts of your job that you didn't expect to be part of the role when you first started?
Being able to communicate effectively and diplomatically with stakeholders, collaborators, scientific peer groups and the public, both here and internationally, is a key part of promoting and supporting the work we do and can be daunting at times – I guess it's something you get used to and better at over time and importantly those relationships can be vital to the progress and success of projects and are often long lasting.
How did you get where you are now? Looking back, is there anything you'd do differently?
I spent much of my childhood in Algeria and as a family we've always enjoyed travelling, embracing adventures and the unpredictable. Growing up, I wanted to be a zookeeper or an archeologist and at school I gravitated towards the natural sciences so I did my first degree at Bristol University in biological sciences. I was particularly drawn to entomology and received a scholarship to be able to narrow down my focus further with a Masters in Pest Management at Imperial College, based at Silwood Park in Berkshire. CABI had its scientific UK base on the same site at the time and I was incredibly fortunate to get a job there as a junior research scientist straight after graduating…24 years on, I'm still at CABI and I couldn't imagine doing anything else.
From the get go I was given travelling opportunities through projects on different weed and insect species, mentored along the way by experienced biocontrol practitioners. I also had a hugely rewarding 6 months of voluntary work for the Mauritian Wildlife Foundation, working on a small coralline island with other like-minded and enthusiastic 20 somethings, to monitor and manage one of the world's rarest birds, the Pink pigeon.
The path to becoming a senior researcher scientist inevitably involves taking on managerial and financial responsibilities and accountabilities but the most gratifying part of my job is still the investigative research. Finding out more about the organisms and interactions with their host plants is still as exciting today as it was when I started and with new projects come new opportunities to investigate and learn new things.
What advice would you give to someone looking to do this role in the future?
I think that if you want to work in pest management or any environmental research discipline (and the world definitely needs that next generation of bright and innovative researchers!) you need to be self-motivated and enthusiastic, volunteer as much as you can to get more hands on experience and teamwork skills and importantly find out what interests and drives you, what your niche might be because you should enjoy what you do. Work hard to create opportunities for yourself and stay curious, keep learning.
I have a 9 year old son and it's hard not to feel completely overwhelmed by the crisis our planet faces- habitat loss, global warming, toxic pollution, epidemics, over-exploitation- everyone has a part to play and for me, working at CABI gives me that little extra scope to work towards preserving biodiversity and sustainability.
Where do you want to go next?
Well I have a bit more time before I retire and I'll be happy to continue working on weeds and seeing the biocontrol of pennywort progress in the UK and maybe in Europe too!
Like everyone, I'm also looking forward to things getting back to some sort of normal and being able to meet collaborators and fellow researchers socially, face to face.
Follow CABI on Twitter to read the latest blog in this series.