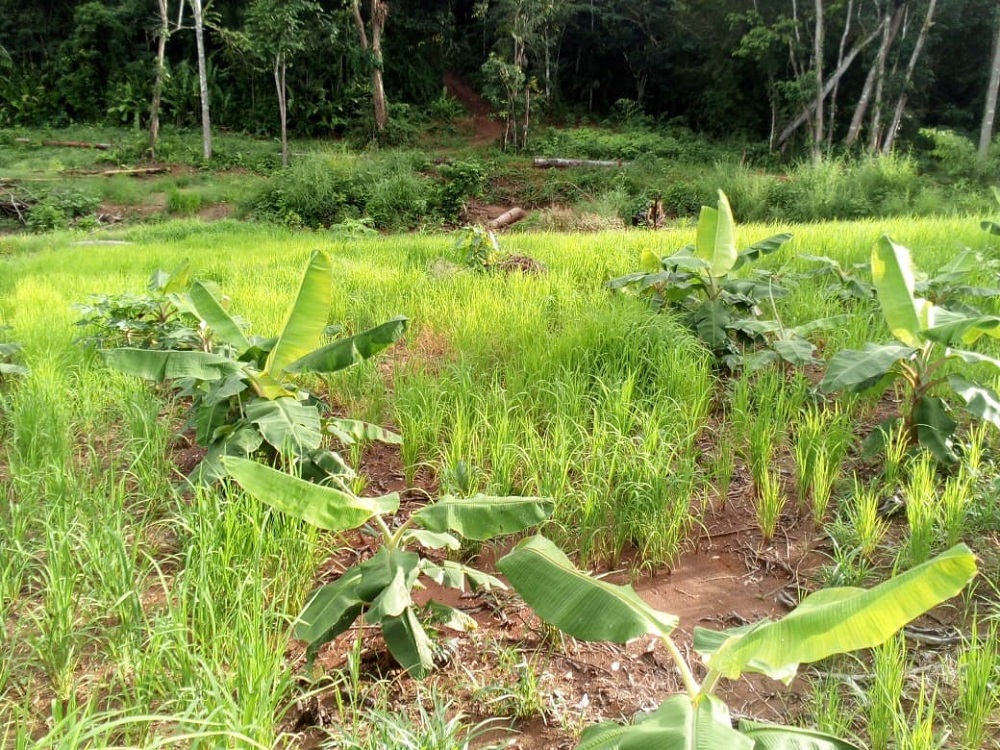 With Earth Day taking place on 22 April, CABI scientist, Naitram Ramnanan (IAS Coordinator and Regional Representative – Caribbean and Central America, CABI) takes a look at sustainable agriculture in Trinidad.
With an ever growing global population, sustainable agriculture – or agroecology – has become an increasingly important area of study and work. Many landscapes including environmentally protected areas, natural forests and wetlands are gradually being encroached upon by humans and damaged by unsustainable agricultural practices.
However, 'green value chains' are helping to turn this around by commercialising eco-friendly farming practices that limit negative impacts on biodiversity, ecosystems and natural resources. By using these green practices in agricultural processes, value is captured at every stage of the food chain providing eco-friendly, sustainable incomes to farmers.
Through agroecology work in Trinidad and Tobago funded by the FAO, CABI has been helping to find potential green value chains and look for opportunities to mainstream agroecological practices in the production of cocoa, pineapples and, importantly, the famous Moruga Hill Rice (MHR). Scoping studies both regionally and nationally identified MHR as a potential crop for mainstreaming green value chains that will be undertaken in the GEF-funded BIOREACH project soon be executed in Trinidad.
The Moruga Hill Rice tradition
Grown in the hills of Moruga in Southern Trinidad, MHR is becoming an important source of income for smallholder farmers, but the rice is not indigenous to the island. Its story starts 200 years ago, when former slaves left the United States of America after joining forces with British Royal Marines during the War of 1812 to settle land in South Trinidad. They cultivated crops such as bananas, maize and sweet potato, but they also brought with them Hill Rice, a red-coloured rice that they grew in Southern USA.
The practice of cultivating hill rice was handed down from generation to generation to the present day farmers of Trinidad. Red in colour and with a nutty flavour, the rice is a hardy crop that survives on slopes in rain-fed conditions and is resistant to many pests and diseases. Once dried properly, the grains can store well for several years. Traditionally, each family would have a large wooden box that could store an entire harvest of up to 1,000 kg.
The MHR farms are mainly family farms, run by the men of the households with women and children helping with weeding and threshing. For generations, farmers have considered the crop to be a key contributor to family food security with MHR being the main crop of many.
Adapting for a greener, more profitable future
Since little or no improvement has been made to the soil management and crop production of MHR, CABI research has revealed that it would be possible to significantly improve rice yields while keeping within the bounds of more environmentally-friendly farming practices. Improved methods for seed sowing, weed control, soil fertility and harvesting could all be introduced without jeopardising the soil, natural environment or the quality of MHR.
Research into the use of organic fertilizers and herbicides, for example, can all significantly improve the yield of the rice, which will also limit the need to fell forest land in order to meet the increasing demands for MHR. Incorporating small-scale machinery for sowing and harvesting could also significantly encourage women and young people to become more involved in the production and processing of MHR.
The rice farmers have organized themselves into the Moruga Hill Rice Cooperative Society. The cooperative helps to keep the MHR tradition sustainable, getting young farmers involved in this way of life; young people are encouraged to cultivate MHR by accessing family lands that are abandoned or idle with support of the cooperative.
One of the most significant lessons learnt about rice production in Trinidad has been linking the agricultural cooperative with non-traditional lending sources for agriculture such as established credit unions – a new approach – making the establishment of crop insurance more feasible.
Going froward, the Moruga Hill Rice Agricultural Cooperative can itself be a model for other commodity groups, encouraging more women and young people to participate fully in agriculture by involvement in cooperatives that provide support and guidance as well as facilitate access to resources.
Looking to the future
In 2016, there were only 40 farmers still producing rice in this system. This low number of MHR farms, coupled with growing demand, has resulted in price increases and hence improved crop profitability. The current market price locally for the rice is 10USD per Kg wholesale and 14USD per kg retail. Prospects for profitable rice yields look promising.
Other research and development initiatives include the creation of a more efficient mill as well as small-scale equipment for planting and harvesting that are being adapted to suit the area. Producers have also experimented with food processing, combining the rice with other local products, such as cocoa, to produce a breakfast mix.
As CABI continues to help find potential green value chains in Trinidad, and as new eco-friendly agricultural approaches are introduced, it is hoped that family farming can continue to support the country's rice growing tradition for another 200 years.
Additional information
Main image: Moruga Hill Rice intercropped with bananas, © Naitram Ramnanan
Visit the Vista Dorado Estates at: https://vistadoradoestates.com