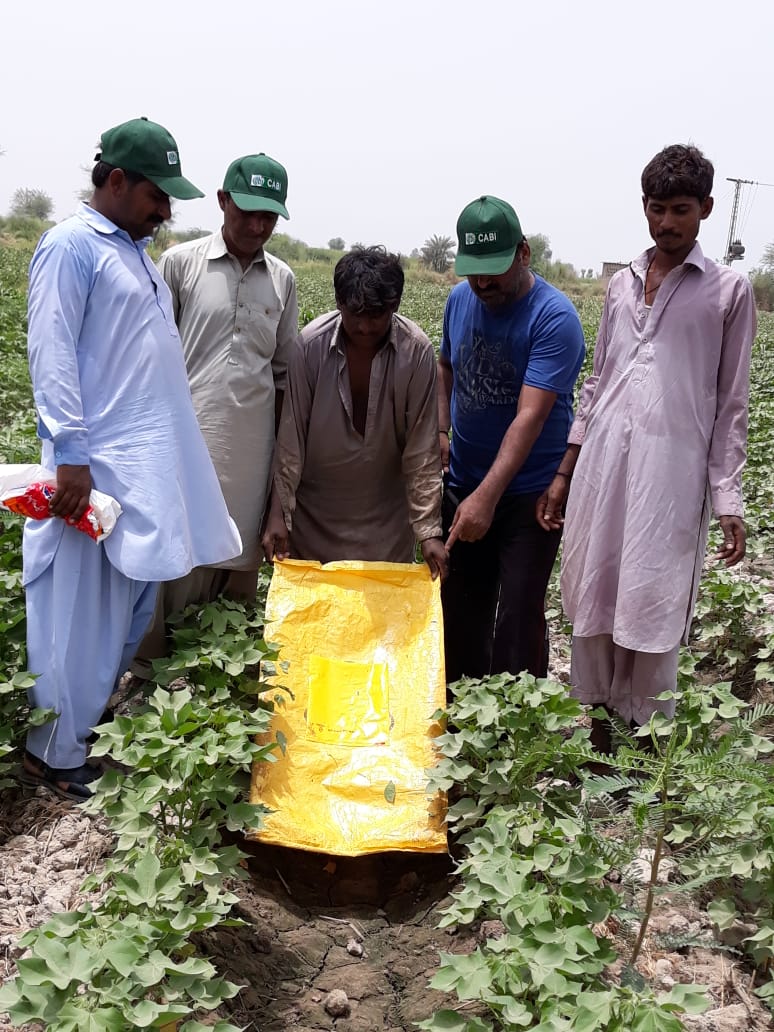 Kurkali is a small village with 8700 households in Tehsil Sinjhoro, District Sanghar. Most of the farmers in this village are either 'medium-sized farmers', having less than 30 hectares of farmland, or small, with a farm size of 1 to 2 hectares. During the summer season, farmers grow cotton followed by seasonal vegetables and wheat. The literacy rate is very low in this area and the majority of the farming community only has education up to primary level.
The combination of small farms, poor yields and high inputs cost is pushing them towards poverty. Compounding this, the intermediaries often cause financial damage (debit) to profit, further dragging them under the poverty line. To improve livelihoods in such areas, farmers seeks innovative technologies to control insect pest and enhancement of soil fertility and professional extension services.
In 2014, CABI-Pakistan started the Better Cotton Initiative project in Sanghar district and cotton-growing farmers were registered and training was provided. These training sessions allowed for a great degree of interaction among participants, especially in smaller groups which addressed technologies and institutional arrangements and their influence on the adoption of technologies at farm level.
Mr Asad Arain is a cotton farmer and shares his experience:  "I was very curious to learn new technologies to control insect pests of cotton and want to save the amount which makes a hole in my wallet during purchasing pesticides from middlemen on debit.
"However, after registering in Better Cotton project and through the CABI team, I have come to know about new technologies like the Natural Enemies Field Reservoir (NEFR), compost and more concerning methodologies for insect pest controlling.
"A CABI field facilitator showed us a demonstration on Pheromone traps and yellow sticky traps to control pink bollworm and sucking pests of cotton. The yellow sticky traps were cheap and easy to use, but these traps are not easy to purchase from market because pesticide dealers only offers synthetic pesticides. So, CABI's team made this technology workable for the farming community by using locally available material to control the sucking pest in cotton crop.
"We used yellow colour bags, which came with fertilizers to attract insect pests and used 'grease oil' to make it sticky and advised a worker to move it from the cotton field by holding it in downwards.
"The result was amazing and surprising.  By moving this trap in the field, the insect pests were also moving and flying around this trap before getting trapped in the 'grease oil.'
"From that day, I never thought about using any other insecticide for cotton pests because we have this cheap and environmentally friendly technology available. We are very much thankful to the CABI team who extended their expertise and extension services to improve our livelihoods."
Additional information
Find out more about the project 'Producing better cotton in Pakistan' here.
Read also the news story 'CABI helps Pakistan's cotton industry to reduce losses of around $350m a year' here.