By Riaz Mahmood and Naeem-ul-Haq, CABI Central and West Asia (CWA), Rawalpindi
Date palm (Phoenix dactylifera L.) is of high economic importance for livelihood for hundreds of farmers families in Pakistan. Fruit and tree parts are of many uses. Date palm trees are spread over 98,000 hectares across Pakistan making it the fifth largest date producer in the world at 0.7million metric tons, with most orchards found in Sindh and Balochistan.
However, Sindh leads the way producing more than 0.28 million tons annually and the Khairpur district of Sindh is famous for its date palm orchards. Simple dates, dry dates, sweets made of dates and even date pickles are available in various varieties in the district. High quality of date is produced in this area for local consumption and also exported to many countries. Around 85% of these dates are dried and turned into chuhara, the majority of which is exported to India, Sri Lanka and Bangladesh.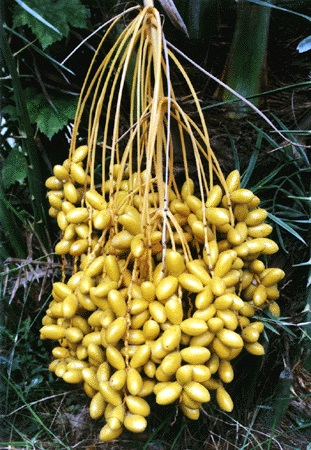 Photo: Date palm with fruit
The date palm plantation in Khair Pur is being severely damaged by a number of insects, however, RPW (red palm weevil Rhyncophorus ferrugineus), is doing direct damage to the crop resulting in huge loss of trees as such, date yield and of plant parts which are of many economic benefits. RPW is native of southern Asia and Melanesia and is spreading fast in Middle East, Africa and Americas.
The primary tactic used in Pakistan to manage this pest on date palm is based on spot treatment of damaged part of stems with insecticides. This, instead of controlling the pest, has rather worsened the pest situation overtime. The role of pheromones traps is also being studied separately in controlling this pest. This may assist in developing Integrated Pest Management (IPM) of the RPW. Currently, a survey has been initiated by CABI CWA, Rawalpindi, for the first time at Khair Pur for natural enemies associated with the RPW. A number of natural enemies of RPW have been reported from different parts of the world. However, no study has previously been conducted before on natural enemies of this pest in Pakistan.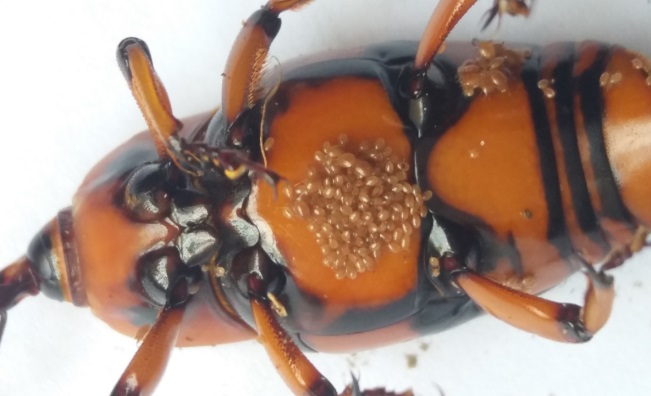 Photo: Mite infected weevil
Under a project sponsored by Government of Sindh, CABI has recorded this year some natural enemies associated with this pest. These include two types of mites, a fungal disease, a fly and two beetles. Herein, we report partly the results of first time record of the predatory mite Uroobovella marginata (Acari: Uropodina) and another type associated with RPW from Pakistan. These mites associated with RPW have also been reported from other countries. They attack larvae, pupae and adults of RPW. They were collected more or less regularly from December 2017 at initiation of the project at Khair Pur.
Mites infected adults become sluggish, weak and ultimately die as observed in the laboratory. Mite infected dead adults were also detected in trees. Mites infected adults caught in pheromone traps were also found, in good numbers. Infected larvae and pupae die because of excessive mites feeding as observed in the laboratory. In the field also, mite infected dead larvae and pupae were found. Mites look promising as a biocontrol agent as they were collected more or less regularly from field samples taken in winter and spring (see Table 1). Observations are being made to know mites incidence on natural population of weevil on date palm throughout the year.
Table 1: Incidence of mite Uroobovella marginata on RPW adults & larvae collected from date palm trees and the adults caught in pheromone traps from different sites at Khair Pur in 2017-18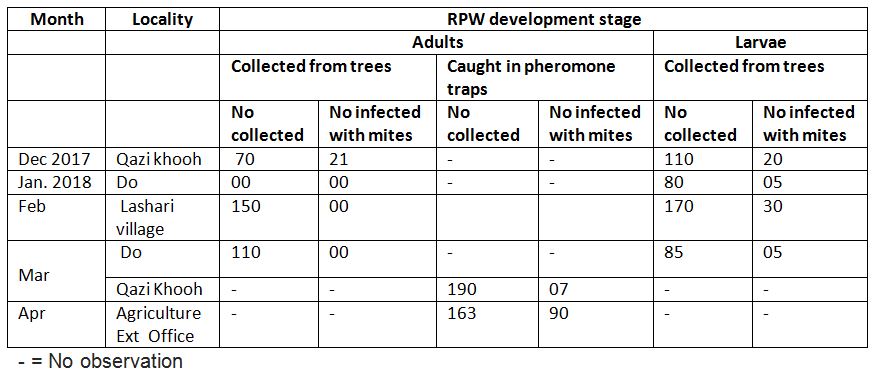 Dealing with research natural enemies of RPW is painstaking difficult. The field collection of larvae and adults from date palm plants is a difficult job. Even the rearing of RPW in the laboratory on natural host date palm is difficult. Efforts are being made for the mass production of RPW on sugarcane stalks for further mass production of mites. Methodologies are being worked on for release of mites in field. One way is to put the mite infected dead larvae directly on date palm stems base under scales and the mites may ultimately find their own way to reach the target. Besides considering mites as biocontrol agents the insects, fungi, viruses, birds are also being searched that are naturally associated with RPW. The selection of promising biocontrol agents from these will be made to further work on them to use against RPW.
Acknowledgments:
Financial support has been provided by SAGP (Sindh Agricultural Growth Program) Government of Sindh is gratefully acknowledged for awarding project to CABI to conduct survey of natural enemies of red palm weevil in Pakistan. We thank Ghulam Qasim Jiskani, Convener, Focal Group of Khair Pur farmers, for moral support for extending research program; Dr Babar E. Bajwa, Regional Director, Abdul Rehman, Deputy Director Program, CABI; Hidayatullah Chajro, Director General Agriculture Extension Sindh and Project Director, SAGP; Noor Mohammad Baloch, Director General, Research Sindh; Shaffi Mohammad Larik, Director Agriculture Extension, Sukkur for their consistent support and encouragement and Mushtaque Hussain Soomro, Deputy Director, Qammarudin, Assistant Director, Agriculture Extension, Khair Pur, for their consistent support and making contacts with farmers at Khair Pur.
Biological control
Read more about CABI's work on biological control here.