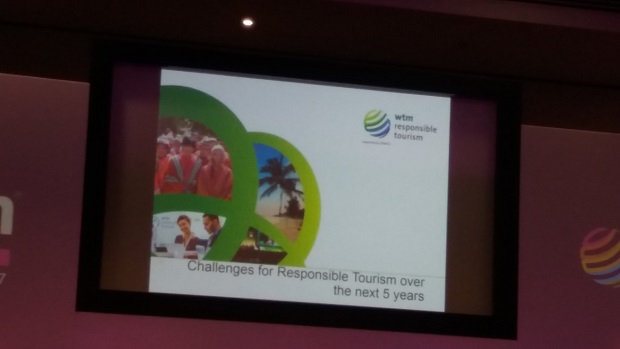 This week, a number of CABI staff attended the World Travel Market, the annual gathering of the travel industry in London. Among a packed Responsible Tourism programme at the event on Tuesday 7 November was a panel session looking at what the priorities for Responsible Tourism should be for the next five years. Fifteen years on from the Cape Town Declaration on Responsible Tourism, new challenges have arisen, and issues such as climate change have become more urgent. So what should policy makers, tourism companies and destinations be focussing on? A poll leading up to the WTM on the Responsible Tourism blog had put carbon emissions as the most pressing priority, followed by water and then waste. But did the panel agree? 

Issues highlighted by the panel of seven could be grouped into two main areas: climate change and resource efficiency, and improving local economic benefits and inclusivity. Climate change and carbon emissions were included by most participants as one of the most pressing priorities, both for tourism and for the planet. In a phrase used repeatedly in sessions throughout the day, aviation was listed as the "elephant in the room", the source of around 80% of all emissions generated by the travel and tourism industry, and of some 4% of total global emissions. Sustainable tourism specialist Libby Owen Edmunds said that from 1990 to 2012, aviation emissions grew by 80%, twice as fast as other global emissions. With potential technological fixes such as use of renewable energy or planes powered by electricity decades away, more immediate solutions are needed to make travel and tourism more carbon efficient. And it's not just aviation where tourism needs to act: Libby Edmunds referred to a recent ITP report into hotel carbon emissions, which states that the accommodation sector needs to reduce its absolute emissions by 90% by 2050 in order to reach Paris Climate Agreement targets. Jane Ashton from TUI Group also highlighted carbon as the number one priority, and said that tourism must help the world decarbonise and reduce carbon use in hotels and airlines. 
Better and more sustainable destination management was given as the chief priority by Nikki White, Director of Destinations and Sustainability for ABTA. She pointed out that the most important issues within this overarching priority would differ between destinations: for some in water-scarce regions, water will be a top priority, while elsewhere it may be waste management (e.g. on small islands with little space, and ground not suitable for landfill) or climate change. Director at Classic Collection Holidays, Martin Brackenbury, also said that local authorities needed to shift from simply promoting their destinations to sustainably managing them, and ensure that destinations were good for people to live in as well as visit. 
Several speakers gave priority to inclusive tourism benefitting communities and local economic development. Inge Huijbrechts of the Carlson Rezidor Hotel Group said that part of the cause of the protests against tourism seen in some destinations was that the positive effects of tourism don't spread widely enough among host communities. Along with other speakers including Marcio Favilla from the UNWTO, South African Minister of Tourism Tokozile Xasa and Martin Brackenbury, she stressed the importance of including local SMEs in the tourism supply chain, and improving employment conditions and human rights. Both representatives from major hotel and tour companies talked about vocational training for young people, and Inge Huijbrechts said that major hotel groups had agreed to work on issues including youth employment, human rights, and greater efficiency in using carbon and water. 
There has been progress over the last 15 years, but as the industry continues to both grow and evolve (the emergence of companies such as Airbnb brings new challenges to urban planning), the list of priorities for the coming years remains long. 
Major issues in tourism 
WTM London is always a great place to get an overview of the state of the tourism industry and the main challenges and opportunities of the sector, which is one of the largest global industries, accounting for around 30% of exports of services and some 10% of global jobs and GDP. After seven years of 'above-average' growth in international tourism, forecasts are for growth to continue at similar or greater rates, suggesting that above average is in fact the new norm. But growth brings its own challenges, and this year has seen the emergence of the term 'overtourism' into the tourism vocabulary, as residents in destinations including Barcelona, Venice, Mallorca and Amsterdam have protested about the impact of ever-increasing numbers of visitors on their quality of life. Overtourism was the subject of this year's UNWTO and Ministers summit at the WTM, where the UNWTO view that growth is not an enemy but just has to be managed better took precedence. Community engagement, communication, congestion management, adequate planning and product diversification were highlighted as key aspects in dealing with 'overtourism'. 
Participants agreed on "the need to build awareness among communities of the benefits of the sector, improve the use of big data to measure and manage the impact of tourists and tourist flows, and promote the development of tourism experiences that engage and benefit communities directly." But insufficient attention seemed to be paid to the real problems that are created by tourist crowding at peak times, or on the impacts of the sharing economy and short-term rental market on property prices and availability for residents. Whether or not growth is classed as an 'enemy', there is inevitably a point where numbers become socially and environmentally unsustainable in popular destinations with finite space and resources. Speaking later, Harold Goodwin, WTM Responsible Tourism Advisor, was not optimistic overall. "As a whole the industry is still doing very little, many are in denial," he said. "Destinations have an overtourism problem but they just want more growth." 
Sessions in the Responsible Tourism programme tackled such issues as animal welfare, human trafficking and accessible tourism. In the overall industry picture, major topics of interest included Brexit and the harmful effects on the UK's destination image and ability to recruit staff in the future, and threats of barriers to travel from the U.S. administration. Changing technology also becomes an ever-growing theme, with digital media, augmented reality and the emergence of 'smart cities' and 'smart destinations' changing the way that tourism is marketed and managed. 
The continued growth of the tourism industry make it all the more important that it is properly understood and sustainably managed. CABI collates all the global research on tourism on our Leisure Tourism internet resource, and is also a leading publisher of books in the field. Among the titles to be published shortly is one on Transforming Travel, looking at how tourism could become an agent of lasting, positive change. Leading industry figures at the WTM said that incremental change is no longer sufficient to make tourism sustainable going forward, and that the need now is for true transformation. CABI will continue to provide information needed to inform the debate.