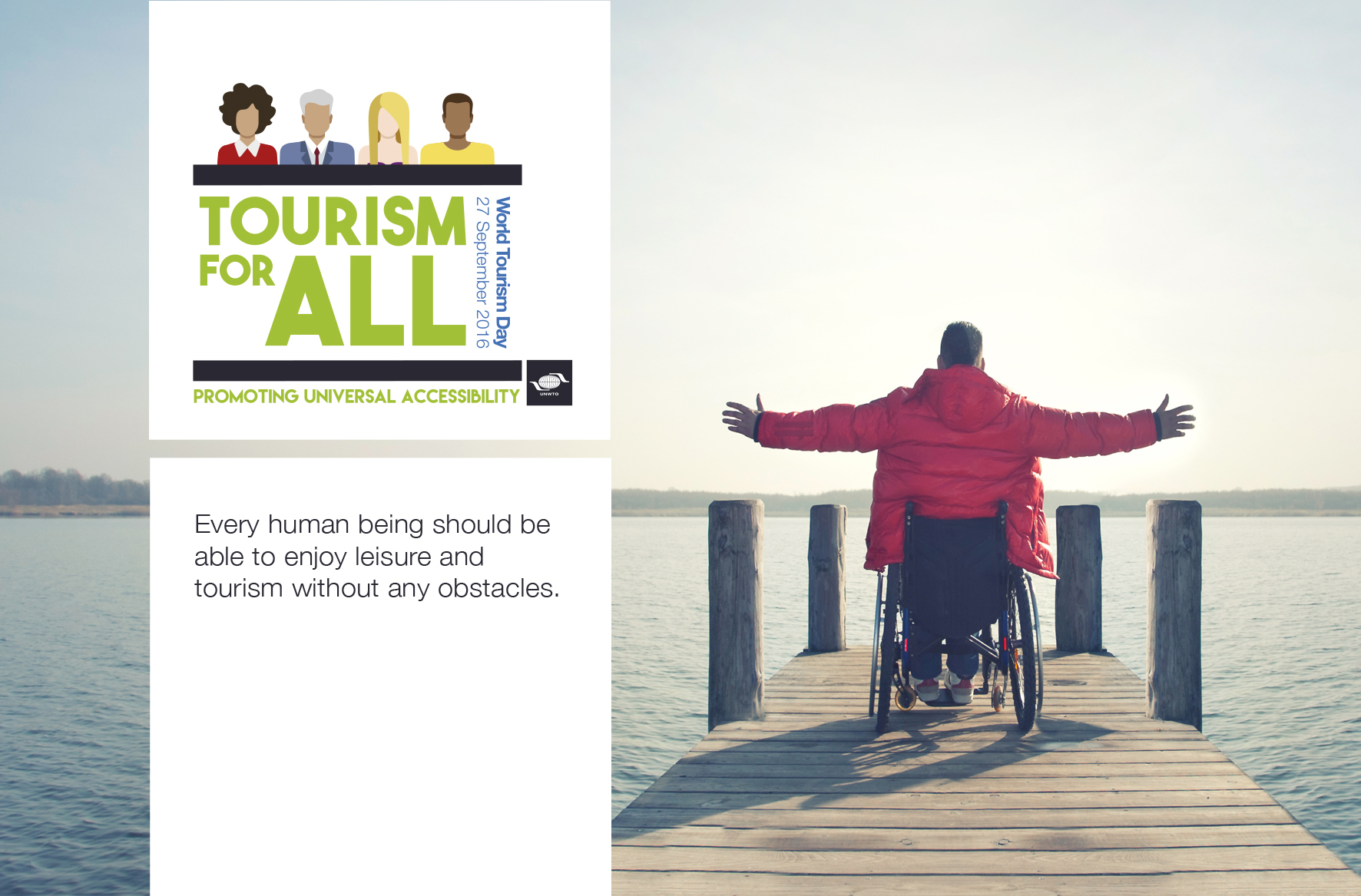 World Tourism Day is celebrated on 27 September to foster awareness among the international community of the importance of tourism and its social, cultural, political and economic value. In 2016, the theme of WTD is accessibility, and how to make tourism something everyone can enjoy. While accessibility is most commonly discussed in relation to people with disabilities, it also affects many older people who may become mobility impaired, and also families travelling with small children, which brings its' own challenges for transport and accommodation. As we will all get older, accessibility is an issue likely to affect us all at some stage in our lives. Reaching universal accessibility in tourism is a shared responsibility of all parties involved in the tourism value chain, as well as a business opportunity for companies and destinations. Official celebrations for WTD 2016 are taking place today, 27 September, in Bangkok, Thailand.

According to the World Bank, one billion people, or 15% of the world's population, experience some form of disability. One-fifth of the estimated global total, or between 110 million and 190 million people, experience significant disabilities. Disability prevalence is higher for developing countries, but accessibility is an issue for all. Taking Europe as an example, the accessible tourism market has been estimated at approximately 27% of the total population and 12% of the tourism market. These figures take into account the large proportion of senior travellers, (since people over 60 years of age will constitute 22% of the global population in 2050), people with disabilities and families with small children. Eurostat says that in 2014, tourists aged 65 or over living in the EU accounted for 20% of tourism nights of EU residents, with the share of tourism expenditure being 16%.
"Everyone has the right to access leisure and tourism services on an equal basis. Yet 1 billion people around the world living with disability, along with young children, seniors and persons with other access requirements, still face obstacles in accessing fundamentals of travel such as clear and reliable information, efficient transportation and public services, and a physical environment that is easy to navigate. Even with modern technologies, those with visual, hearing, mobility or cognitive impairments are being left behind in many tourism destinations." said United Nations Secretary-General Ban Ki-Moon in his official WTD message.
"All of the world's citizens have the right to experience the incredible diversity this planet has to offer. Therefore, it is highly important that all countries and destinations, as well as the industry, promote accessibility for all in the physical environment, in transport systems, in public facilities and services and in information and communications channels", said UNWTO Secretary-General, Taleb Rifai.
"Accessibility for all should be at the center of tourism policies and business strategies not only as a human right, but also as a great market opportunity. With the world's population ageing, all of us will benefit sooner or later from universal accessibility in tourism."
The official celebrations include a 'Tourism and the Media' session held on 26th September at Chulalongkorn University in Bangkok, and a full-day conference on the 27th. During the event, experts on accessibility and tourism will exchange views and best practices, addressing the need to work in cooperation to advance in the 'Tourism for All' agenda.
The conference will also address innovative strategies in the development of accessible tourism infrastructure, products and services which add value to destinations and enhance their competitiveness on the global tourism market. A number of best practices will be featured with the aim of emphasizing the value of investing in accessibility.
A number of resources on accessible tourism are available on the WTD website. These include UNWTO recommendations on accessible information in tourism, and manuals on accessible tourism for all.
CABI's Leisure Tourism site has numerous open-access articles on accessibility, and site subscribers can also find hundreds of journal articles, conference papers and book chapters on the subject. References to a selection of papers indexed are listed below.
Further Reading
Karacaoglu, S.; Yolal, M.; Gursoy, D. Examining the perceptions of mobility-impaired travelers: an analysis of service expectations, evaluations, and travel barriers. Tourism Review International, 2015, Vol.19 No.1/2, pp.19-30
Grimes, C. Destination planning for disabled people. Planning for tourism: towards a sustainable future 2015 pp.107-128
Domínguez Vila, T.; Darcy, S.; Alén González, E. Competing for the disability tourism market – a comparative exploration of the factors of accessible tourism competitiveness in Spain and Australia. Tourism Management 2015 Vol.47 pp.261-272
SuriáMartínez, R.; Escalona Alba, J. Y. Integration, tourism and disability: are hotels accessible for persons with physical disability? PASOS: Revista de Turismo y Patrimonio Cultural 2014 Vol.12 No.1 pp.209-218
Dann, E.; Dann, G. M. S. Sightseeing for the sightless and soundless: tourism experiences for the deafblind. Tourism Culture & Communication 2013 Vol.12 No.2/3 pp.125-140
Domínguez, T.; Fraiz, J. A.; Alén, E. Economic profitability of accessible tourism for the tourism sector in Spain. Tourism Economics 2013 Vol.19 No.6 pp.1385-1399
Figueiredo, E.; Eusébio, C.; Kastenholz, E. How diverse are tourists with disabilities? A pilot study on accessible leisure tourism experiences in Portugal. International Journal of Tourism Research 2012 Vol.14 No.6 pp.531-550