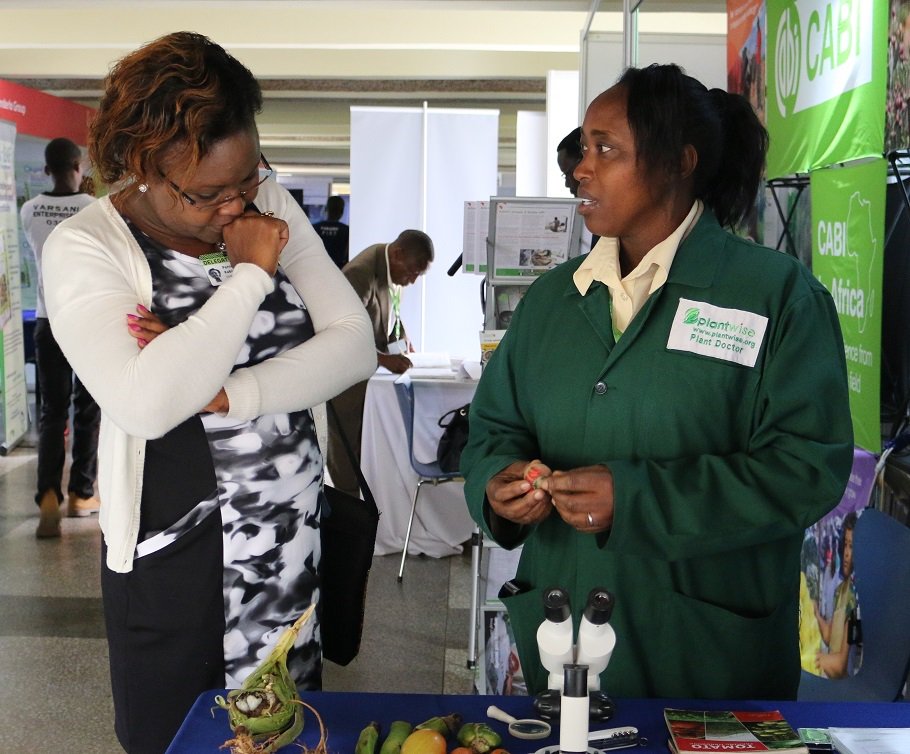 Image: The Plantwise stand attracts great interest from the AGRF audience
CABI was among more than 200 organizations that took part in AGRA's Africa Green Revolution Forum 2016 in Nairobi on 5-9 September 2016. The forum, which brings together stakeholders in agriculture from Africa and other parts of the world, was themed 'Seizing the Movement: Securing Africa's Rise Through Agricultural Transformation'. AGRF 2016 was designed to showcase examples of transformation in agriculture in action and to promote efforts to drive and achieve scale and to foster accelerated impact. The forum took place at the United Nations complex at Gigiri in Nairobi, Kenya.
CABI was represented at the forum by a strong delegation, which included Dr. Phillip Walters, CABI's Chair of the Board, Dr. Dennis Rangi, Director General - Development, Morris Akiri, Regional Director CABI Africa, George Oduor, Deputy Director Research, Elizabeth Nambiro, Plantwise regional coordinator, Daniel Karanja, Deputy Director Development, among other personnel from the Africa centre.
Speaking ahead of the AGRF preparations, Dr. Rangi noted the significance of CABI's participation at the forum. "This is an important market place for ideas, partnerships and opportunities for our organization and we must ensure that we are well represented at this forum especially as it happens quite close to the Africa center this time round."
CABI set up a colorful exhibition booth that displayed the full range of thematic programme activities of the organization including Africa Soil Health Consortium, the OFRA project, Plantwise, including a mock plant clinic manned by Elizabeth Njoroge, one of the plant doctors from Kenya. The stand attracted more than 300 hundred visitors during the forum, representing audiences from more than 100 organizations and more than 15 countries from universities, national research institutes, policy leaders, private sector, regulatory agencies, NGOs, farmer organizations and even private farmers.
Speaking at the exhibition stand, Dr Walters was particularly proud of CABI's visibility at the AGRF 2016. "AGRF is a fantastic forum for discussing many of the projects we are already involved in and ought to be involved in the future."
The AGRF 2016, was attended by high level speakers and guests including H.E. Uhuru Kenyatta, President of the Republic of Kenya, H.E. Paul Kagame, President of the Republic of Rwanda, H.E. Jakaya Kikwete, former president of the Republic of Tanzania, Dr. Agnes Kalibata, AGRA President, Strive Masiyiwa, Chair of the AGRA Board, Dr. Willy Bett, Cabinet Secretary for Agriculture, Kenya, Dr. Akinwumi Adesina, President of the African Development Bank, among other dignitaries.