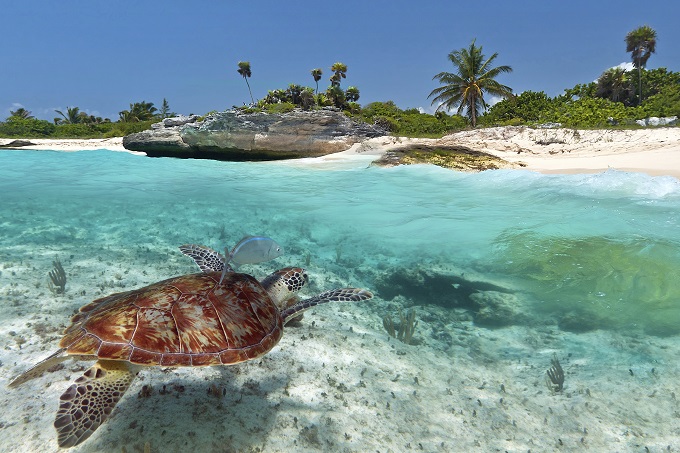 Welfare and conservation aspects of wildlife tourism and attractions have been in the news lately, with a major study on conservation and welfare at wildlife attractions just published in PNAS, and another recent study suggesting that nature tourism may affect how predators and prey interact. Yesterday saw wildlife and national parks discussed in a seminar held as part of the responsible tourism programme at the World Travel Market. Both good and bad practices were highlighted, and the discussion was stimulated by high-profile events such as the shooting of Cecil the lion in Zimbabwe, and recent media reports of tourists riding on the backs of turtles trying to lay their eggs on a beach in Costa Rica.

Among the speakers were Wilfred Chivell of Marine Dynamics Tours (a whale and shark watching company in South Africa), David Nash from the Campaign against Canned Hunting, and moderator Harold Goodwin who gave an overview which included turtle viewing as an example of how rising popularity, and lack of knowledge among many tourists, is threatening the species which the visitors are coming to see. 
Turtles are particularly sensitive to disturbance, and so tourism needs careful management if it is to help rather than threaten the species. Nesting and hatching should not be interfered with, and beaches need to be kept in a natural, dynamic state. Light and noise may prevent turtles from laying eggs, or disorient hatchlings heading to the sea. On beaches which are also used for bathing and sunbathing by tourists, shading by towels and beach umbrellas can lower the temperature experienced by eggs below the surface to the point where eggs stop developing. In the worst cases, thousands of people flocking to beaches where turtles are attempting to lay eggs can lead to many turtles abandoning their efforts and swimming back into the ocean without laying a single egg. While in theory access to beaches is controlled, at popular locations such as the Ostional Beach in Costa Rica the numbers of tourists can be so high that guides and park rangers are overwhelmed and find it impossible to control the numbers present, or prevent some people behaving irresponsibly. As turtles return to specific stretches of beach each year, it is quite possible for damage and disturbance to quickly wipe out whole populations. 
But there are locations where turtle tourism has a positive effect. Highlighted in discussion were remoter beaches in Trinidad where, because access is more difficult and the beaches unsuitable for bathing, tourist numbers are manageable while still being sufficient to bring in significant local income and give incentives to communities to protect the turtle populations. Many local people work as guides in the nesting and hatching seasons, and the practice of eating eggs and killing turtles for meat has stopped as the turtles have become a more valuable resource for sustainable tourism. In places such as Grande Riviere and Matura, leatherback turtle populations are rebounding, and communities getting much needed income. 
In South Africa, the speakers explained how responsible tourism companies do valuable work in education, research and conservation. Shark cage diving and whale watching trips run by Marine Dynamics and Dyer Island Cruises all have a marine biologist on board, and the companies help tag, track and monitor marine animals while educating visitors and providing significant local employment. On land, private game reserves such as Samara have positive impacts for research and education as well as doing important work in cheetah conservation. And in Zambia, national parks largely depend on tourism for funding, providing a virtuous circle in which tourists coming to see animals help protect those animals as a resource to attract other tourists in the future. 
Tourism can have positive effects, but as reported in the PNAS study published in October, there are also negative welfare aspects which many people enjoying wildlife experiences are simply unaware of. David Nash highlighted the cases of lion cub petting, and walking with lions, in South Africa and how these experiences – which attract people who may well see themselves as animal lovers – are tied in with 'canned hunting' where people pay to shoot animals which are more tame than wild. Volunteers pay to help look after lion cubs at sites billed as sanctuaries or orphanages, where in reality cubs have been taken away from their mothers at a very young age in order to habituate them to humans for petting and 'lion walking' experiences. Thousands of lions are held in captivity in programmes which do nothing to help conservation of wild lions, and when they become too old to be of use for other purposes, many of these lions are shot for trophies. It is suggested that there may be 6000 lions in 200 'reserves', with up to 1000 being killed in canned hunts each year. Dishearteningly, speakers at the WTM suggested that there appears to be no short-term prospect of either the practice being banned by the South African government, or public awareness of the harmful aspects of lion petting and walking becoming sufficient for these activities to be restricted.
While the ethical position of canned hunting appears clear from an animal welfare perspective, the wider issue of trophy hunting is less so, with there being arguments for as well as against hunting from the perspective of conservation. Trophy hunting – which Dilys Roe from IIED spoke on at the WTD seminar – is the subject of a separate article "Trophy hunting: good or bad for conservation?", available to read on the Leisure Tourism Database, CABI's resource presenting the global research on leisure, tourism and recreation.
Further reading
Bunnefeld, N., Edwards, C. T. T., Atickem, A., Hailu, F., Milner-Gulland, E. J., 2013, Incentivizing monitoring and compliance in trophy hunting., Conservation Biology, Vol. 27, No. 6, pp. 1344-1354 
Dicken, M. L., Hosking, S. G., 2009, Socio-economic aspects of the tiger shark diving industry within the Aliwal Shoal Marine Protected Area, South Africa., African Journal of Marine Science, Vol. 31, No. 2, pp. 227-232 
Gallagher, A. J., Vianna, G. M. S., Papastamatiou, Y. P., Macdonald, C., Guttridge, T. L., Hammerschlag, N., 2015, Biological effects, conservation potential, and research priorities of shark diving tourism., Biological Conservation, Vol. 184, pp. 365-379 
McGranahan, D. A., 2011, Identifying ecological sustainability assessment factors for ecotourism and trophy hunting operations on private rangeland in Namibia., Journal of Sustainable Tourism, Vol. 19, No. 1, pp. 115-131 
Nelson, F., Lindsey, P., Balme, G., 2013, Trophy hunting and lion conservation: a question of governance?, Oryx, Vol. 47, No. 4, pp. 501-509 
Pegas, F. de V., Coghlan, A., Stronza, A., Rocha, V., 2013, For love or for money? Investigating the impact of an ecotourism programme on local residents' assigned values towards sea turtles., Journal of Ecotourism, Vol. 12, No. 2, pp. 90-106 
Waayers, D., Newsome, D., Lee, D., 2006, Observations of non-compliance behaviour by tourists to a voluntary code of conduct: a pilot study of turtle tourism in the Exmouth region, Western Australia., Journal of Ecotourism, Vol. 5, No. 3, pp. 211-222