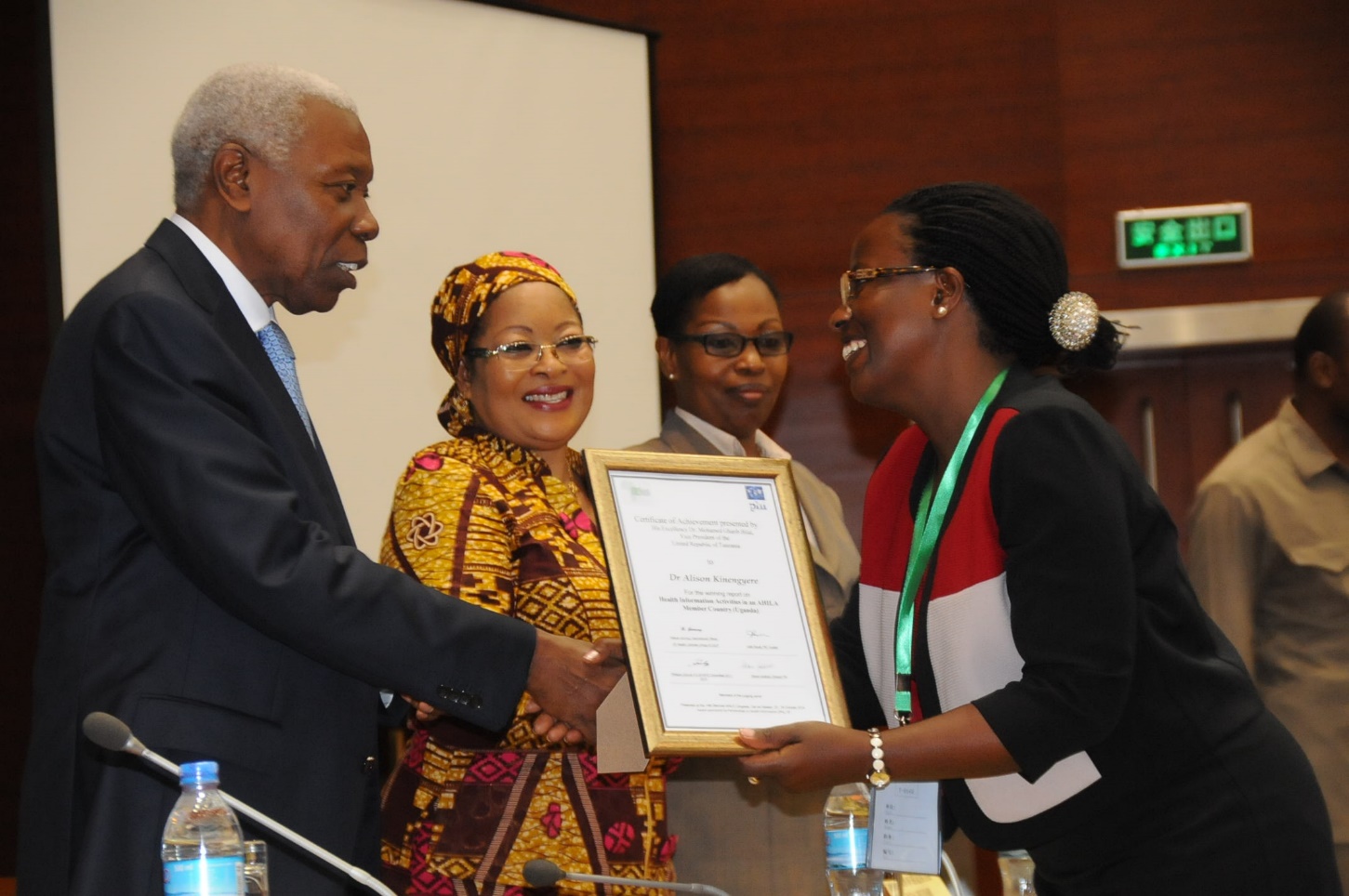 The Vice President of Tanzania presents the CABI award
to Dr Alison Kinengyere
Not all the news coming out of Africa is unsettling or scary. There are positive stories around African health featuring their health professionals working tirelessly to improve the delivery of health services & build the health system capacity in their countries.
 AS Ebola has shown, provision & communication of accurate and timely information is key to improving health… and in Africa, this is very much the remit of trained information specialists (librarians) working in support of the medical & academic community. They don't hit the headlines, they aren't wearing the personal protective equipment (PPE), but nonetheless they are working alongside colleagues to counter the ebola epidemic and the other health issues of their communities.   
In 1984, African health information activists, formed AHILA (Association for Health Information and Libraries in Africa)…. It has grown to an organisation of 46 member countries, partners and collaborators, with countries formed into "chapters". This week is the 14th biennial AHILA Congress (Dar Es Salaam, Tanzania, 20-24 October 2014).
 "A health librarian's skill set is important for sourcing reliable evidence-based health information, partnership building and collaboration across professions."
 On 20th October, the opening day of the congress, two medical librarians from Uganda, Dr Alison Kinengyere and Ms Glorias Asiimwe, received a prestigious award for their report on health information activities in their country. Granted by the Association for Health Information and Libraries in Africa (AHILA) and Partnerships in Health Information (Phi), the prize of £500 was sponsored by CABI, publishers of the public health database, Global Health.
The Vice President of Tanzania, Mohamed Gharib Bilal,  presented the award.
Strengthening health capacity in the winner's chapter, Uganda
The prize money is intended to strengthen and support an existing AHILA chapter or facilitate the process of forming a country chapter with links to its national library association. Entrants were asked to describe partnership activities and events relevant to health information in their country, and show how they would spend the prize money to strengthen future health information activities. 
Reviewed by a committee of distinguished international information professionals, judges said the two librarians' report on Uganda was, "compelling in demonstrating a clear desire to develop the chapter both in terms of activities and extended membership. The objectives for the use of funding were clear and realistic."
Dr Alison Kinengyere of Albert Cook Medical Library, Makerere University and Ms Glorias Asiimwe of Busitema University were very excited to win.  
Further information can be found in the press release issued by CABI and its partners Phi and AHILA :
Ugandan medical librarians win African health award