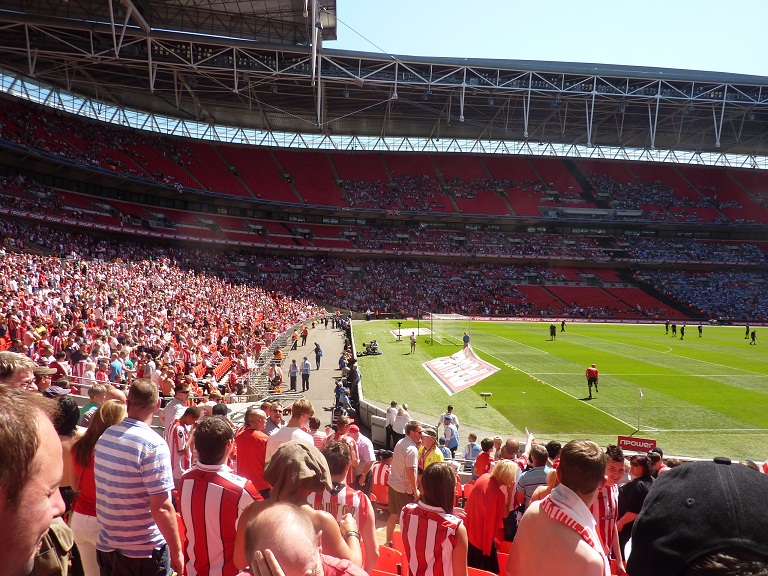 Last Saturday I watched my hometown team, Sheffield United, win through to an FA Cup semifinal for the first time since 2003. For a team in the third tier of English professional soccer (the illogically named League 1), a great achievement given the number of larger, richer and more successful clubs that went out in earlier stages of the cup. As it happens, we won while playing at home and wearing red and white stripes. Research published in the first 2014 issue of the International Journal of Sport and Exercise Psychology examines how much of a role those two factors may have had.
Over the past 20 years, the home advantage in sport (the idea that teams playing at home are statistically more likely to win) has been a hot topic for academic study, in particular the reasons why the home advantage exists. The current study by Allen and Jones reveals the extend of home advantage in one professional sports league, the English Premier League, over the first 20 years of its existence. The researchers examined archival data from 7720 matches contested during the first 20 seasons of the English Premier League. The information obtained included the number of wins, draws, losses, goals scored, goals conceded and total points gained in home and away fixtures. The data showed a clear home advantage effect with 60.77% (± 8.30) of total points being won in home games.
A number of factors which may contribute to home advantage have been examined over the last 20 years. The possible effects of crowd noise on refereeing decisions is just one (a common perception among English soccer fans: it's almost impossible for the 'away' team to win a penalty at a big club such as Manchester United). Statistical relationships have been found between home advantage and crowd size, lending some support to this theory. But another factor which has been suggested is a slightly strange one stemming from another statistical quirk in studies of team sports: teams who play in red tend to do better than those in other colours. Atrill et al. (2008) found in a study of all four divisions in English professional soccer that red teams had the the best home record, with significant differences in both percentage of maximum points achieved and mean position in the home league table. The recent study of the Premier League by Allen and Jones (2014) also finds that 'red' teams are more successful. Teams in red had an average league position of 6.72 (±6.09), teams in blue had an average league position of 11.51: teams in white or 'other' colours were fairly close in finishing position to the 'blue' teams. So one possible theory for home advantage holds that the fact that the home team can pick the shirt colour has an important role, especially if one chooses red.
Sadly for those looking for a simple way of improving their team performance at home (is this why the new owner of Cardiff City recently broke with his clubs historic tradition by changing their home kit from blue to red?), Allen and Jones found that after controlling for team ability, teams opting for red shirts in their home games did not show a greater home advantage than teams opting for other colour shirts. (Maybe it's just that for most of the last 20 years, 'red' teams such as Manchester United, Arsenal and Liverpool have had better players and managers than the 'blues'?). However, the study did find that home advantage has remained consistent over time, and is greater in teams with lower compared with higher league positions.
As it happens, Charlton – the team that Sheffield United beat last Sunday – normally play in red. And while three of the FA Cup quarter-finals were won by the home team, the 'best' team left in the competition at that stage managed to lose at home. It may be that home advantage and red-and-white shirts helped Sheffield United, or that the blue shirts of Manchester City were somehow a liability in their home defeat, but I prefer to think it was down to the managers and players of the respective teams on the day. But with no-one having home advantage in the semi-finals at Wembley, maybe I should hope for some miraculous intervention of red-and-white shirts?
CABI's Leisure Tourism Database has 64 abstracts of papers on home advantage in sport. A small selection on soccer is referenced below.
References
M.S. Allen and M.V. Jones, 2014. The home advantage over the first 20 seasons of the English Premier League: Effects of shirt colour, team ability and time trends. International Journal of Sport and Exercise Psychology, 12(1): 10-18 [DOI: 10.1080/1612197X.2012.756230]
Home advantage: comparison between professional and amateur Greek football leagues. Armatas, V.; Yiannakos, A.; Seaton, M.; Rigas, G.; Journal of Sport and Health Research, 2013, 5, 1, pp 95-106, 51 ref. [http://www.journalshr.com/papers/Vol%205_N%201/full.pdf]
Red shirt colour is associated with long-term team success in English football. Attrill, M. J.; Gresty, K. A.; Hill, R. A.; Barton, R. A.; Journal of Sports Sciences, 2008, 26, 6, pp 577-582, 21 ref. DOI: 10.1080/02640410701736244]
Home advantage and crowd size in soccer: a worldwide study. Goumas, C.; Journal of Sport Behavior, 2013, 36, 4, pp 387-399, 17 ref.
Improved training of football referees and the decline in home advantage post-WW2. Nevill, A.; Webb, T.; Watts, A.; Psychology of Sport and Exercise, 2013, 14, 2, pp 220-227 [DOI: 10.1016/j.psychsport.2012.11.001]
Worldwide regional variations in home advantage in association football. Pollard, R.; Journal of Sports Sciences, 2006, 24, 3, pp 231-240 [DOI: 10.1080/02640410500141836
Perspectives on the home advantage: a comparison of football players, fans and referees. Anderson, M.; Wolfson, S.; Neave, N.; Moss, M.; Elsevier Ltd, Oxford, UK, Psychology of Sport and Exercise, 2012, 13, 3, pp 311-316 [DOI: 10.1080/02640410400021559]
High-pressure matches do not influence home-field advantage: a 30-year retrospective analysis of English professional football. Whatling, A.; Micklewright, D.; Griffin, M.; Athletic Insight: The Online Journal of Sport Psychology, 2012, 14, 3, pp unpaginated [http://www.athleticinsight.com/Vol14Iss3/Home.htm]