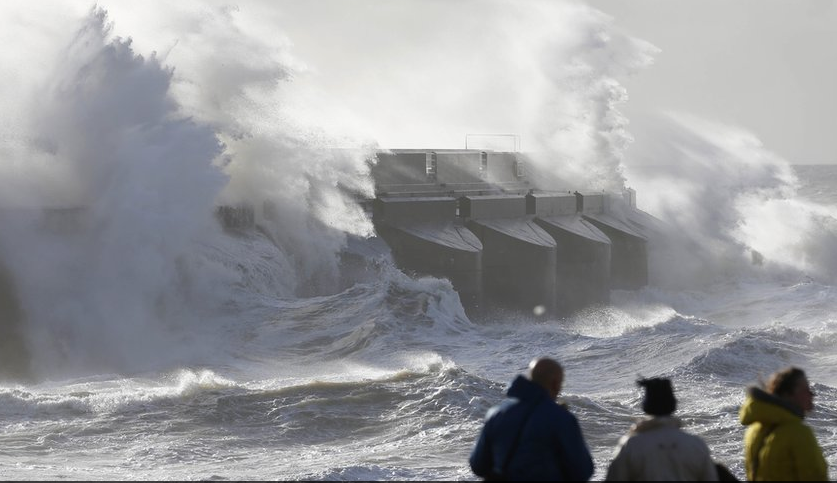 Image from BBC News images
As we have read in the news this morning, the weather system named
St Jude's storm swept in from the Atlantic and hit the Southern
part of the UK today, with winds gusting up to 99 mph (The Guardian online) and causing a lot of damage, including widespread travel disruption due to flooding, power cuts, and 100s of fallen trees. Could extreme weather
and its devastating effects become a common occurrence from now on?

The large number of recent extreme weather events has triggered
intensive discussions, both in- and outside the scientific community, on
whether they are related to global warming and climate change. This prompted Coumou and Rahmstorf  to review the evidence and argue in a Nature article  that "for some types of extremes, notably heat waves, but also
precipitation extremes, there is now strong evidence linking specific
events or an increase in their numbers to the human influence on
climate. For other types of extreme, such as storms, the available
evidence was less conclusive, but based on observed trends and basic
physical concepts it is nevertheless plausible to expect an increase."
The IPCC press release
for their 5th assessment report released last month gave some pointers to what sort of
changes we should expect to continue experiencing more
frequently: global surface temperature change for the end of the 21st
century is projected to be likely to exceed 1.5°C relative to 1850 to
1900 in all but the lowest scenario considered, and is likely to exceed
2° C; heat waves are very likely to occur more frequently and last longer;
and, as the Earth warms, we expect to see currently wet regions
receiving more rainfall, and dry regions receiving less." 
It is likely that anthropogenic influences have affected the global
water cycle since the middle of the last century and have contributed to
the observed increases in atmospheric moisture content, to global-scale
changes in precipitation patterns over land, and to intensification of
heavy precipitation over land regions (5th IPCC report).
Changes in the global water cycle are known to affect weather systems
and result in extreme weather (Huntington, 2010). Therefore, weather systems such as
St Jude's storm could happen again, but let's hope it will not happen
very frequently and that we will have plenty of warning from the Met
Office in advance, as we did this time.
The CABI internet resource Environmental Impact contains a comprehensive bibliographic content on climate change and extreme weather, including 1500 abstracts from the CAB Abstracts database.
References
Coumou, D.; Rahmstorf, S. (2012) A
decade of weather extremes. Nature
Publishing Group, London, UK, Nature Climate Change, 2, July, pp
491-496.
Huntington, T. G. (2010) Climate
warming-induced intensification of the hydrologic cycle: an assessment
of the published record and potential impacts on agriculture. Elsevier, Amsterdam, Netherlands, Advances in
Agronomy, 109, pp 1-53.
Related articles