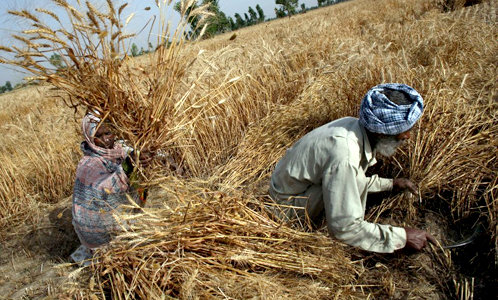 On Monday August 26th, India's Lower House of Parliament (the Lok Sabha) approved a Food Security Bill that aims to provide subsidised food to two thirds of its population.  Continue reading to find out more.

Under the plan, which still requires approval by the Upper House of the Indian National Assembly – the Rajya Sabha – to become law, two thirds of India's 1.2 billion population will receive 5kg of cheap rice or wheat each month.  The ruling Congress Party argues that it is a significant step towards eliminating widespread hunger in the country. 
"Our aim for the foreseeable future must be to wipe out hunger and malnutrition from our country," said Sonia Gandhi, president of the Congress Party.  
The scheme proposes to use technology, such as Geographic Information Systems, to capture and store information, Global Positioning Systems, and Radio Frequency Identification chips, to track the movement of food grain from the warehouses of the Food Corporation of India, a government body, to fair price shops within the public realm.
Whilst the landmark bill is the world's biggest program to target hunger to date, the country's central bank has warned that an increase in public spending at this level could deepen the government's deficit and lead to a rise in inflation.  Amid these concerns, the stock markets plunged on Tuesday 27th August and the rupee hit a record low against the dollar.
The main opposition party – the Bharatiya Janata Party – says that the scheme, set to cost $19.76bn each year, will merely expand the already bloated and inefficient system of grain procurement and distribution that covers approximately 200 million people.  Furthermore, Arvind Virmani, a prominent economist, believes that money could be better spent on cleaning up water supplies and building sewage systems, to more effectively combat malnutrition (The Economist, 2013). 
Currently, India spends the equivalent of 1% of its GDP on public health.  The UN children's agency UNICEF, claims that diarrhoea kills over 385,000 children in India every year and estimates suggest that 70% India's drinking water is seriously polluted (Murty & Kumar, 2011). 
In India, populist programs meant to attract voters are not new. Prior to the last two general elections, the Congress Party passed a rural jobs plan and a multi-billion dollar farmer loan waiver. "It's not food security but a vote-securing bill" Murli Manohar Joshi, a leading member of the BJP said. 
The government launched the scheme last week by executive decree, but will still require full parliamentary approval for it to be made permanent.
A search of CAB Direct using the term India AND Food Bill gave a total of 51 records.  Linked here for the benefit of subscribers to the database.
References:
India's Malnourished: A mess of pottage.  The Economist, 2013, pp 50-51.
Diarrhoea: Why children are still dying and what can be done, UNICEF/WHO, 2009.
India Infrastructure Report. Water Pollution in India: An Economic Appraisal. Murty, M and Kumar, S, 2011, pp 285 -298.
Further reading for subscribers of the CAB Abstracts database:
The revival of public distribution system (PDS) in India. Narwade, S. S.; Hind Agri-Horticultural Society, Muzaffarnagar, India, International Research Journal of Agricultural Economics and Statistics, 2013, 4, 1, pp 101-103, 15 ref.
Food Security and undernourishment in India: assessment of alternative norms and the income effect. Ramesh Chand; Jaya Jumrani; Indian Society of Agricultural Economics, Mumbai, India, Indian Journal of Agricultural Economics, 2013, 68, 1, pp 39-53, 12 ref.
Assessing the impact on food security of alternative compensatory financing schemes: a simulation approach with an application to India. Diakosavvas, D.; Green, C. J.; World Development (Oxford), 1998, 26, 7, pp 1251-1265, 26 ref.
 Assessing the impact on food security of alternative compensatory financing schemes: a simulation approach with an application to India. Diakosavvas, D.; Green, C. J.; Loughborough, UK, Economic Research Paper – Department of Economics, Loughborough University, 1997, 97/13, pp 33 ., 24 ref.
Food security in India – issues and dimensions – a study. Chandrasekhar, T. C.; Ministry of Agriculture and Cooperation, Directorate of Economics and Statistics, New Delhi, India, Agricultural Situation in India, 2012, 69, 4, pp 199-209, 11 ref.
Food insecurity in urban poor households in Mumbai, India. Nilesh Chatterjee; Fernandes, G.; Hernandez, M.; Springer, Amsterdam, Netherlands, Food Security, 2012, 4, 4, pp 619-632, 41 ref.
Related articles