India has a coastline of more than 8000 km which is rich in biodiversity. Apart from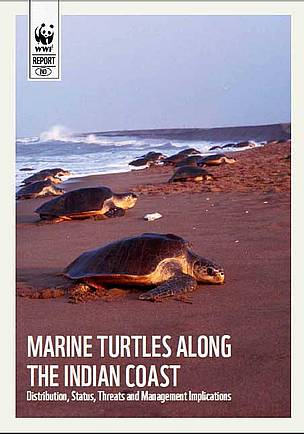 sustaining fishing grounds, India's coastal waters and beaches provide foraging and nesting sites for a variety of marine species, including sea turtles. Five species of sea turtles are known to inhabit Indian coastal waters and islands. But as detailed in a report from the WWF this summer, the turtles are under threat from a variety of sources, including unplanned beach development (including ports, lighting, tourism and plantations), by-catch mortality (in trawl nets and gill nets), weak enforcement of fisheries and Protected Area regulations and, to a limited extent, killing of turtles for meat and the poaching of eggs. The future may be bleak unless conservation steps are taken – and tourism could play its part in helping conservation, rather than harming it.
Zee News reports that beaches like Mandarmani and Digha in West Bengal are among those where turtles, including vulnerable Olive Ridleys, are threatened by tourism.
"In Digha intense tourism pressure has resulted in the decline of turtles and based on information revealed by local people, no nesting population of Olive Ridley turtles was observed in the area in the last five to six years," says the report.
East Midnapore's 60-km-long coastline, which has popular tourist beaches like Mandarmani, Digha and Shankarpur, is less than 200 km away from Kolkata.
The coastline extends to Odisha where in Gahirmatha beach and elsewhere hundreds of thousands of Olive Ridleys congregate annually for mass nesting.
The study, conducted by a team led by Punyasloke Bhadury of the Indian Institute of Science Education and Research in Kolkata, observed that cars and other four-wheelers were being driven along the Mandarmani beach.
Such activity may have resulted in rapid decline of nesting Olive Ridleys which nest on sand, observes the ecologist in the report. He said that rampant tourism continued to pose a serious threat to turtles which might be nesting along the coastal areas of East Midnapore.
Developmental activity associated with tourism, he pointed out, could also be affecting the nesting population, if any, in Dadanpatrabar.
Beach erosion is another serious threat to occasional nesting populations of Olive Ridleys reported by local inhabitants. To counter beach erosion, several unplanned steps have been taken including casuarina plantations along the coastlines that has affected turtle nesting, the report says.
To prevent coastal erosion, sea walls were erected in Junput, Shankarpur and Digha coastlines.
"The construction of dykes and embankments, as evident in the Junput coastal area, could adversely affect turtle migrations and nesting in the region," says the report.
The WWF report suggests that tourists visiting the region should be sensitised more about the marine turtles and a possibility of introducing wildlife tourism, in particular turtle tourism, can be explored. Such an initiative could generate revenue for turtle conservation and at the same time create job opportunities for the local communities.
The researchers concluded that the future of marine turtles visiting the East Midnapore coastal belt for nesting is bleak unless conservation steps are taken.
In some other areas of the world, including Australia and the Caribbean, turtle tourism is well developed and strictly controlled. CAB Abstracts includes over 4000 database records on turtles, including about 80 on the Leisure Tourism Database on turtles and tourism.
Link
Marine turtles along the Indian Coast: Distribution, Status, Threats and Management Implications (PDF file)