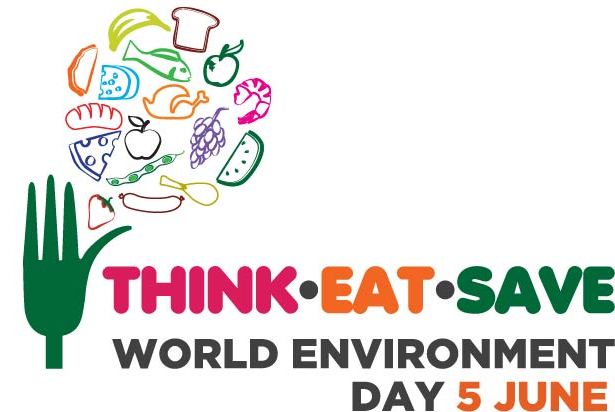 Today is World Environment Day, which is the day to
highlight awareness of the environment and promote political attention and
action to protect all environments each year, always on 5th June. The day has been celebrated since 1972 and this year's official theme is 'Think.Eat.Save: Anti-food Waste and Unnecessary Resource Consumption,' which is a very
important point when considering the massive amount of food that is wasted, especially
in the western world, each year.

The Institution of Mechanical Engineers published a report
earlier this year, which highlighted the shocking level of waste within the
global food system. The report entitled Global
Food – Waste not, want not, claims that 30-50% (1.2 – 2 billion tonnes) of all food
produced is wasted. In the context of a rapidly growing world population this
amount of waste is unacceptable. The report also noted that for each item of
food wasted, the resources which have gone towards producing it are also wasted.
When considering water shortages in many areas of the world and the energy crises this inefficiency can be
devastating.
To highlight the overall theme of avoiding food waste, UNEP has also provided a list of traditional and indigenous ways to preserve food that have been used by communities around the world for centuries. These include:
Chuños – introduced by the Incas to South America. It
was a way of preserving potatoes by exposing a frost-resistant potato
variety to the very low night temperatures of the Andean Altiplano,
freezing them, and subsequently exposing them to the intense sunlight of
the day.
Kiviak – a traditional wintertime Inuit food from
Greenland that is made of auks (seabirds) preserved in the hollowed-out
body of a seal and which are served at feasts or weddings.
Pemmican  – a mixture of dried meat and tallow. North
American tribes were the first ones to eat pemmican, but it was widely
adopted as a high-energy food by Arctic and Antarctic explorers as it is
a concentrated mixture of fat and protein.
Farinha – yucca or cassava flour that was produced by indigenous tribes by fermentation
and maturation, but has become a highly popular Brazilian staple food.
Ghee – a type of butter that has a long shelf-life and needs no
refrigeration, prepared by boiling butter and removing the residue. Introduced
by the Bedouins and also used by other desert populations.
Cheese – one of our popular foods is an ancient food whose origin predates recorded history and is assumed
to lie in the practice of transporting milk in bladders made of ruminants'
stomachs, with their inherent supply of rennet.
The Chartered Institution of Water & Environmental
Management (CIWEM) also published a report recently entitled Less is More: A lifecycle approach to waste
prevention and resource optimisation, which aims to assist in the
production of England's waste prevention programme and raise awareness of this
important issue. The
report shows the potential for waste prevention across material lifecycles,
from extraction to disposal. 
CABI has an internet resource Environmental Impact, which
is dedicated to environment and constitutes a single
comprehensive bibliographic information resource on climate change and other
influences of humans on the biosphere. It also covers other aspects of human
damage to the environment such as pollution, deforestation, biofuels, desertification and
habitat loss. Environmental Impact is accessible by subscription.
Link to UNEP World Environment Day website.
Related articles