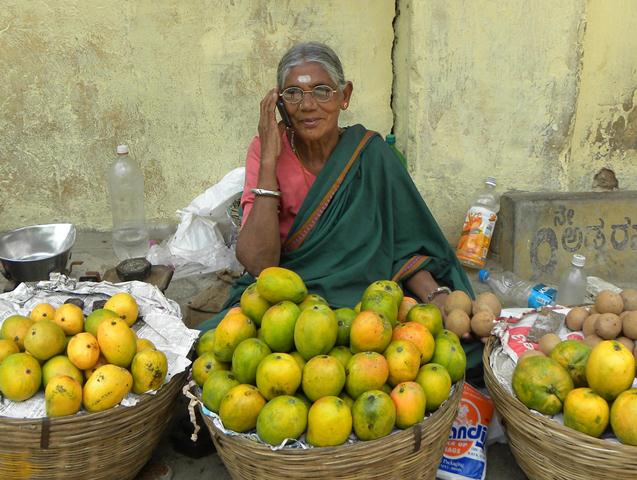 Carmen Thönnissen, Programme Manager from the Swiss Agency for Development and Coopertation, recently visited CABI's Direct2Farm project with her colleagues in Meerut, India. Read Carmen's report on her visit and the impact of mobile technology on Agriculture.
On 23 April 2013, we – from the Swiss Agency for Development and Coopertation (SDC) – had the pleasure to visit one
site of the Direct2Farm projects in Meerut, India. Direct2Farm is a mobile-enabled agriculture
infomediary service aimed at making high quality information readily accessible
to farmers. Accompanied by Mr. Sharbendu Banerjee and Ms Priyanka Anand of the
D2F CABI team in Delhi, we visited the Farmer Call Center that serves more than
30,000 farmers; an Airtel phone company selling stand in a nearby market; met
with famers in their fields; and visited one farming family's home near Meerut.
We experienced how advisory 'audio'-messages were concisely recorded and
sent out to farmers, heard farmers calling the call center and the livestock
expert giving advice to specific farmer requests. Farmers we met showed a great
interest in these advisory messages and related services as it connects them to
the broader farming community, to specific knowledge, to market prices, and
expert advice etc. This is happening in an environment in which traditional
agricultural extension activities seem to be largely absent.
What struck us is how this service allows information
to 'quickly' reach women and men farmers, even those that are not at ease in
writing and reading, provided that their diagnostic is accurate and based on
good observation! It empowers farmers to stay informed, to share this
information with others, and based on that decide themselves to make informed
choices. The CABI team, which is the content partner of this phone service set
up with a telecom company as well as a fertilizer company and farmer
association, is a young and highly motivated team. It engages with the view to
continuously learn from farmers' feedback to improve the mobile service, and is
devoted to reach out and empower the 'bottom of the pyramid' farmers. The
approach bears a high potential and can exploit synergies with other CABI
activities, such as implemented by Plantwise.
Carmen Thönnissen, Pierre-André Cordey and Peter
Bieler, Global Programme Food Security, SDC