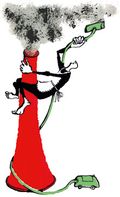 The United Nations Conference on Climate Change (COP 18)
has been taking place in Doha, Qatar, for a week now (please see my previous blog). Much hope, albeit no optimism, is being
pinned on these events, as scientists warned recently that the planet is
heading for catastrophic levels of warming, of as much as 4-6 degrees C. They say
emissions must peak by 2020 to have a chance of holding warming to no more than
2 degrees C. This is a highlight of events that caught my attention each day
during COP 18, based on what I've been reading in the IISD reports of each day's
events.

Day 1 of COP 18: As I read the IISD report of day 1 of COP
18, I noticed that everybody seemed anxious to have a conclusion of the work of
the Ad Hoc Working Group on Long-term Cooperative Action under the Convention
(AWG-LCA). The AWG-LCA is one of the five subsidiary bodies under the
Convention and it was established by decision 1/CP.13 (the Bali Action Plan) to
conduct a comprehensive process to enable the full, effective and sustained
implementation of the Convention through long-term cooperative action, now, up
to and beyond 2012, in order to reach an agreed outcome to be presented to the
Conference of the Parties (COP) for adoption. As explained by Australia, on
behalf of the Umbrella Group, the conclusion of the AWG-LCA is important to
allow implementation to begin and progress to be made toward an agreement
applicable to all parties by 2020.
Day 2: For me, one important message from day two
came from Agnes Otzelberger, CARE International, who called for "a
knowledge-brokering process that translates information to target audiences
with different abilities to process information, noting the need for presenting
climate data in innovative ways for illiterate populations." I think this is
important because I believe more people would contribute more to reducing
emissions of greenhouse gases if they understood the science better. There is a
need to make more use of simple, eye-catching, fun and effective methods, such
as visual aids, animation and short films, to explain global warming and
climate change in a more accessible way so that the message will reach
everyone.
Day 3: There was a session on renewable
energy, featuring a discussion on the Renewable Energy Readiness Report,
presented by the EU and the Gulf Cooperation Council (GCC) countries clean
energy network. The "RE Readiness Report for GCC Countries" found a need to
develop strategic plans and reports on research and movements toward
sustainable development in each GCC country. Arthur Runge-Metzeger, for the
European Commission, informed participants that globally, a total of US$250
million was invested in renewable energy, which is an increase from US$120
million three years ago. He noted the increasing renewable energy deployment in
the EU through a number of strategies including feed-in tariffs and called for
a "turning point" at COP 18, specifically on technology cooperation.
However, for me one of the highlights of day 3 was a session
entitled 'Supporting Climate Policies through Social Media – Opportunities and
Limits.' The event examined the role, challenges and potential of social media
in climate change negotiations. One of the panellists, Iain Keith, from the
Avaaz Foundation, highlighted two main roles of social media: supplementing the
lack of attention to climate change by the mainstream media, and allowing
people to directly influence the climate change negotiations by building a
critical mass of support. Another panellist pointed out how it can be difficult
to report what is being discussed in the sessions of COP 18 via twitter, in 140
characters, which might result in misinformation on occasions. Keith said
campaigns should engage people with humour, issues that speak to people and
issues of the moment, noting that messages should be "catchy, sticky and easily
transportable."
Day 4 of COP 18: a number of youth events took place on "Youth Day"
with many reflecting on the world they are going to inherit if progress
continues at a "snail's pace" and wondering if their protest to "thank
delegates for their progress" was premature. My highlight for day 4, which was
reported in the IISD reporting services website was the rhetorical question
asked by one youth delegate, i.e. "How old will I be when we finally get an
agreement?" reflecting on the continuing slow progress in discussions. "A sense
of urgency is seriously missing from these negotiations," he added.
Day 5: A session entitled 'Measuring and Tracking Climate
Progress' was presented by the World Resources Institute (WRI). Taryn Fransen,
WRI panellist, listed four questions central to policy assessment: Is the
policy significant? Can we be confident it will deliver? What does it add up to
in terms of progress on an overall emissions trajectory? What more can be done?
Let's hope policy-makers have been asking these as they draw up policies of any
sort already.
Day 6: A session entitled 'Global Update on Carbon Capture
and Storage (CCS) and Regional Project Perspectives' which was presented by the
Gulf Cooperation Council (GCC) caught my attention, because I've been noticing
quite a lot of literature on the technology for CCS among the literature we
receive for abstracting here at CAB Abstracts lately (selection below). The session moderator,
Barry Jones, from the Global CCS Institute, briefed participants on the global
status of CCS and stressed that CCS is an important element in tackling climate
change, describing his organization's work. He pointed out that CCS is
applicable to a wide range of industries and said that certain sectors need to
scale up their use of CCS technologies. With regard to barriers to the
realization of the benefits of CCS, including the time and economic costs of
storage site selections, he called on governments to pass regulation to enhance
CCS deployment and lower costs. Khalid Abuleif, Chief Negotiator for Climate
Agreements, Saudi Arabia, highlighted a carbon management roadmap, focusing on
stationary capture, mobile vehicles, enhanced oil recovery (EOR) and CCS in
saline aquifers. He outlined key areas in which Saudi Arabia led the
international community, which includes the call for an IPCC report on CCS and
the inclusion of CCS under the CDM.
Day 7: Sunday, 02 December 2012. Although no main event took place, a side event today introduced
and discussed the new Collaborative Adaptation Research Initiative in Africa
and Asia (CARIAA) model, to be launched in 2013. CARIAA is a US$ 70 million
programme, initiated by the UK's Department for International Development
(DFID) and Canada's International Development Research Center (IDRC), which
will run from 2012 to 2019, and might actually help the population in poorer
parts of Africa and Asia to become more resilient to climate change. It aims to
increase the resilience of vulnerable populations and their livelihoods in climate
change "hot spots" in Africa and Asia, including densely populated river
basins, large deltas, and semi-arid regions. The experience and lessons learned
through DFID's and IDRC's previous joint climate change effort, i.e. the Climate
Change Adaptation in Africa program (2006-2012), have provided insight and
guidance for CARIAA's mission.
Link to IISD Reporting Services.
Link to the Carbon Capture and Storage Institute web page. 
Illustration by Belle Mellor, for the Economist.
Further Reading