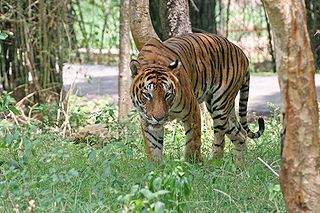 Both as a wildlife enthusiast and a writer on tourism, I've been following with interest over the last month or so the ongoing debate in India over whether tourism should be banned from core areas of the country's tiger reserves. On Tuesday 24 July, India's Supreme Court temporarily banned any form of tourism in the core areas of tiger reserves to aid conservation efforts.
"We make it clear that till final directions are issued by this court, the core zones or core areas in the tiger reserves will not be used for tourism," justices Swatanter Kumar and Ibrahim Kalifulla said in their order.
The ban, a response to a petition by tiger activist Ajay Dubey of the nongovernmental organization Prayatna, was originally put in place until 22 August. Since its introduction, there has been much lobbying against the ban by tourist guides and companies, some wildlife organisations, and now state and central governments in India.
Belinda Wright, executive director of the Wildlife Protection Society of India, based in New Delhi, said a tourist ban would be a "total disaster".
Stressing she was pro-tiger rather than pro-tourist, she said: "There is no way the forestry department alone can protect tigers from poachers and local encroachment on the land."
Paul Goldstein, a guide for holiday company Exodus and award-winning wildlife photographer, told AOL Travel: "The whole reason to visit these parks is to keep these marquee species alive. Where the tourists have disappeared, in parks like Sariska and Panna, so has the tiger. You just cannot argue with these stark facts.
"The presence of tourists is not only a critical source of income, it is also an essential deterrent for poachers, and without these extra sets of eyes the tigers will be vulnerable and disappear."
Goverdhan Singh Rathore, whose father, Fateh, founded the non-governmental organisation Tiger Watch, is also quoted in the Indian press as saying "the relationship between the presence of tourists and the number of tigers is not inversely proportional, but directly proportional." In 2005-06, the Ranthambor park had 26 tigers. Despite increasing tourism, the population has risen to 53.
The Indian central government has now challenged the court. On Tuesday 21 August, the central government filed an affidavit asking permission to review its guidelines on tiger conservation and requesting that the court review the tourism ban, which was imposed to enforce government policy. But the two-judge bench that presided over the hearing on Wednesday criticised the government for its lack of effective measures to protect the tiger population.
"What are you going to do to save tigers?" the judges asked the attorney representing the government, according to the Press Trust of India. "What have you done for the tiger project? The Union of India has not done anything except filing affidavits."
"Earlier it was 13,000; now it has come down to 1,200," they said, referring to the tiger population. "You are more worried about the commercial activities."
The government's lawyers had said "State governments have expressed concern that many local people depend on tourism for their livelihood and hence the stoppage of tourism in core areas of tiger reserves would result in loss of such income leading to discontent which may be a threat to wildlife and forests."
The government also said that the ban on tourism would deprive citizens of an opportunity to appreciate India's national heritage.
The Supreme Court has now said that the interim ban order on tourism will continue until further hearings on 29 August.
My feeling has always been that properly managed ecotourism helps safeguard wildlife, and that giving wildlife a financial value to local communities gives them a motivation to protect it. But some research quoted by the Times of India calls into question the livelihood benefits in India. In a paper indexed on CABI's Leisure Tourism Database, Krithi K Karanth of the Centre for Wildlife Studies, India, and Ruth DeFries of Columbia University, USA, investigated resorts and homestays within 25 km of 10 selected national parks and sanctuaries, and found that tourist facilities provided little direct incomes to people living around the parks and that visits 'rarely directed towards improving conservation efforts or supporting local people.' Among issues highlighted are that some facilities ran swimming pools and water fountains – especially in Ranthmbore, Kanha and Pench tiger reserves – even though they are located in areas that are perennially plagued by acute water shortage.
Most (72%) facilities surveyed had been established after 2000, and 85% of resorts are located within 5 km of park boundaries. While most employees were local, the study finds that "contribution of facilities to local employment are marginal". Direct tourism employment is less than 0.001% of the population living within 10 km of protected areas (PAs). The study says that "in a few PAs, the significant tourism-related revenues may supplement management efforts but generally revenues are not a large source for conservation funds. The direct economic opportunities available to local people from tourism are marginal in all the PAs relative to the large number of people living around them." It is concluded that "balancing PA management, tourism growth, local community needs and rapid ongoing land use changes around these PAs requires attention and cooperation between government agencies, private enterprises, and local communities."
A recent study from the same research groups (Karanth et al., 2012) on domestic Indian tourists to national parks finds that 65% of visitors "believed that local people benefit from the park, whereas in reality local benefits are few". Seventy-one percent of tourists indicated they are likely or somewhat likely to return to the parks but only 34% would be willing to visit the parks if tigers are absent. Forty-two percent indicated willingness to pay higher gate fees.
So what is the answer? In India, with its rapidly increasing population and persistent rural poverty, there have long been problems in striking a balance between the interests of local communities and the need to protect tigers from both poaching and habitat destruction. In a paper in Current Issues in Tourism, A. Banerjee suggests that the Indian Forest Service is "is ill-equipped to manage ecotourism" and "faces constant pressure from other actors to increase tourism revenue". Improvements in the practice of tourism, if it is indeed to continue, certainly need to be made. But if tourism is removed completely, then it may become even more difficult than at present to fund anti-poaching measures and keep those that would harm tigers and their habitats out of unvisited reserves.
References
Is wildlife tourism benefiting Indian protected areas? A survey. Banerjee, A.; Current Issues in Tourism, 2012, 15, 3, pp 211-227
Nature-based tourism in Indian protected areas: new challenges for park management. Karanth, K. K.; DeFries, R.; Conservation Letters, 2011, 4, 2, pp 137-149
Wildlife tourists in India's emerging economy: potential for a conservation constituency? Karanth, K. K.; DeFries, R.; Arjun Srivathsa; Vishnupriya Sankaraman; Oryx, 2012, 46, 3, pp 382-390