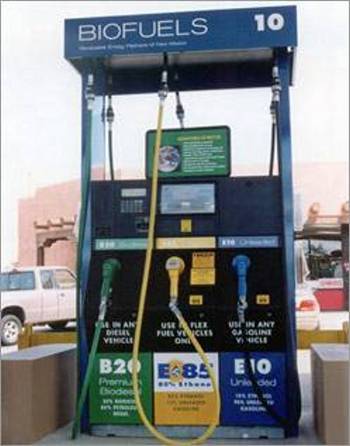 From the 1970s to the 1990s, Brazil was the only country known to have successfully produced and used liquid biofuels in the form of sugarcane ethanol. Now hardly any country can be found that is not producing or considering biofuels production. The International Energy Agency predicts bioenergy will contribute up to 21% of the global primary energy demands by 2050, compared with 2% in 2008 (IEA, 2010), which makes bioenergy an important current topic for discussion.

I attended the Parliamentary Office of Science & Technology (POST) seminar on Bioenergy last tuesday (10 July 2012). The seminar event, which also launched POSTNOTE No. 410, on bioenergy, aimed to discuss developments in the recent science behind sustainability criteria and to consider the opportunities and challenges anticipated as bioenergy markets and technologies grow.
The meeting was chaired by Lord Oxburgh and the speakers comprised: Jo Howes, Strategy and Emerging Issues Adviser for BP Biofuels; Caroline Season, Senior Policy Adviser on Bioenergy for the Department of Energy & Climate Change (DECC); Hugh Whittall, Director of the Nuffield Council on Bioethics; and Ian Tubby, Principal Adviser on Business & Markets for the Forest Services of the Forestry Commission, England; and the presentations were followed by a discussion session.
Jo Howes said in her presentation entitled 'Biofuels done well' that BP Biofuels started 10 years ago, employs around 4000 people, and has invested $7 billion by the end of 2011 on alternative energy. BP is now a significant producer of bioethanol in Brazil, while also producing sugar and power from the sugarcane waste bagasse. She added that BP Biofuels recognises that new biofuels must be low carbon, saleable and environmentally sustainable. Environmental impacts are managed at local level, and deals with issues of greenhouse gas emissions, water, sensitive and protected areas and human rights. BP Biofuels has also invested in production of ethanol from cellulose in the USA, using a system which converts the whole crop grown in low quality land. During the discussion, I asked Jo if she envisaged prices of biofuels to be lower than those of fossil fuels in the future. Her reply indicated that it is difficult to say at the moment, because prices depend on the global market.
Caroline Season spoke about DECC's bioenergy strategy, which sets out a framework of principles to guide the UK bioenergy policy. The strategy provides a holistic view of biomass uses in setting bioenergy policy, and informs policy decisions on electricity, heat and transport. However, the strategy itself does not include any policies. The strategy's main principle is that bioenergy must be produced sustainably and that there is a role for UK government to steer sustainable development of bioenergy in the UK and internationally, if possible. She added that DECC thinks bioenergy could account for around 50% of renewable energy target of 2020.
Hugh Whittall presented an overview of the 'Biofuels: ethical issues' report, which was published in April 2011. He pointed out that basic moral values must be considered when considering biofuels production, namely: human rights; environmental sustainability (international standard recommended); GHG reductions (international standard needed); fair trade (biofuel production should promote it); and equitability (costs and benefits should be distributed in an equitable way and should not discourage local, small-scale biofuel production). In summary, he added that biofuels production should not be pursued at any cost, but instead should be based on careful consideration of moral values.
Ian Tubby's presentation was entitled 'UK Forestry, bioenergy, sustainability.' He talked about the Forestry Commission 'woodfuel implementation plan', available here. He said that the UK hardwood and softwood market has declined between 1985 and 2009. The sector is using the energy market to bring woodland back into management, while improving biodiversity and reducing emissions. Potentially 6000 jobs will be created.
From what I have seen in the recent literature, the most sustainable way to produce biofuels from cellulose is by using cellulosic waste materials (grass, trees and other crop wastes and wood processing wastes), as well as municipal solid waste. All these wastes can be converted into new generation bio-ethanol, via enzymatic breakdown or acid hydrolysis to glucose, followed by fermentation. I think the bioenergy era should be an opportunity for countries to produce their renewable energy from sources available locally, e.g. plant-derived where land is plentiful; biowaste-derived in small first world countries that are limited with regard to land availability, but produce a lot of biowastes; wind / tidal energy in windy countries with large coastline, such as the UK; etc. This approach would reduce the huge emissions of GHG due to transportation of imports and exports. I asked the speakers if they thought this would ever happen, but from their replies, I understood it won't because no country will be restricted to what is available and practical, but more likely to what is more saleable and profitable. Let's hope that trade competitiveness and economic growth won't be placed above environmental protection, although I think that will be the case, because we don't live in an ideal world.
CABI's Biofuels Information Exchange provides a forum for discussing the subject and free access to over 35,000 research records on biofuels from our CAB Abstracts Database, as well as links to pertinent third party biofuels reports and books, news summaries, discussion forum and more!
References
International Environment Agency (IEA), 2010, Blue Map Scenarios.
DEFRA. UK Bioenergy Strategy. April 2012.
 
Nuffield Council on Bioethics, 2011, Biofuels: Ethical Issues.
Forestry Commission. Woodfuel Implementation Plan 2011-2014.
Further Reading
(selected from over 2000 items from my search of CABI's internet resource Environmental Impact, using the terms
"bioenergy and sustainability"
with links for the benefit of subscribers to the database.)