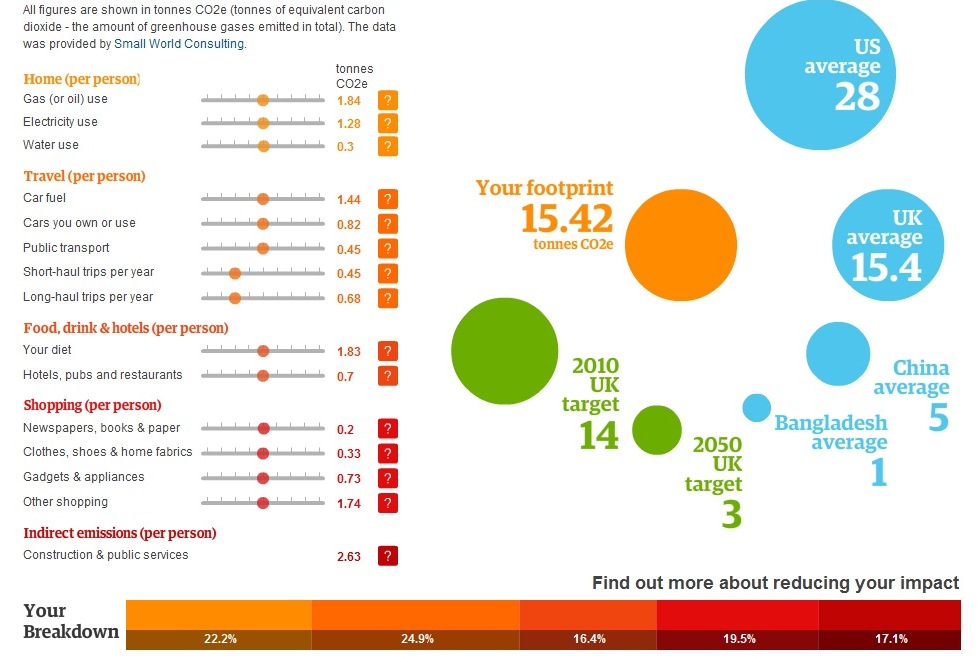 I found an easy and fun to use carbon footprint calculator in the Guardian online, which I thought I should share with handpicked readers. The carbon calculator tool is also available in the 10:10 webpage, an organisation which aims to inspire and support people and organisations to cut their carbon emissions by 10% in a year. Read on and try out the calculator.

I know there are quite a few carbon footprint calculators around, but a lot of them concentrate on our energy consumption to heat and light our homes and the fuel to drive our cars. Although these are very important, they only make up about half of our carbon emissions; the other half is made up by all the other things we use or consume to live and enjoy life, such as gadgets, food and healthcare. The good thing about this carbon footprint tool is that it is based on your spending and lifestyle patterns, including everything from the services (gas, electricity, water, petrol) to all other goods, such as food and gadgets you buy. It compares your footprint to the UK average and other countries around the world and it actually measures an individual's footprint, as opposed to the whole household or family.
To measure your individual footprint, you just have to drag the sliders (orange circles) according to your use of each particular service or goods, i.e. to the left (less than average use) and to the right (above average) . By default the sliders show how the average UK citizen's footprint breaks down, which is roughly half that of the USA and 3 times that of China. The target is to cut our individual footprint down to 3 tonnes CO2e by 2050, but can we do it? You can use the calculator tool to see how you'll have to change your lifestyle to reach the 3 tonnes target! 
The 10:10 webpage contains news on what organisations and individuals are doing to reduce their carbon emissions and links to resources to help us to get to that 3 tonnes CO2e by 2050 or sooner. For example, you can find out about the Renewable Heat Incentive (RHI), which is the most significant green initiative you have probably never heard of. The RHI, which was launched in the UK this year offers households and businesses guaranteed payments based on the amount of energy they generate using approved renewable heat systems.
There are quite a lot of changes we can easily make to reduce our carbon emissions, and the 10:10 website gives a list of 10 things we can do, which includes things like flying less, saving on heating and electricity by replacing light bulbs to low energy ones, driving less and cycling or walking more, eating better by cutting on the amount of meat we eat, and wasting less food and water. Any individual, family, business or organisation can make these cuts and, by working together, we can make a real difference, says 10:10.
Link to 10:10 webpage.
The 10:10 checklist (things we can do easily to reduce our carbon footprint).
Link to the carbon footprint calculator tool.
More details about the RHI launch in the UK Department of Energy and Climate (DECC) Change webpage.
Link to CABI's Environmental Impact webpage, which provides a comprehensive biobliographic information resource on climate change and other influences of humans on the biosphere. It also covers other aspects of human damage to the environment such as pollution, deforestation, desertification and habitat loss.