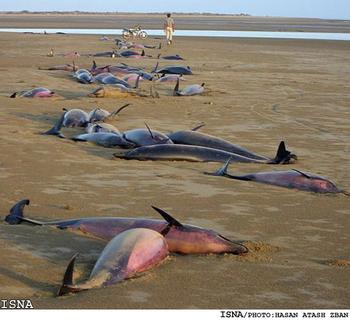 The process of tallying and logging the harm the oil spill in the Gulf of Mexico might have done to wildlife is still underway, one year after the disaster. However, indications are that the spill has not been as catastrophic as the worst predictions, but dead animals are still washing up on beaches.
According to a recent article in The Guardian newspaper, based on data published by the US Fish and Wildlife Service (USFWS) in November 2010, the spill has affected thousands of birds and dozens of sea turtles. State and federal workers and contractors for BP recorded more than 6,100 dead birds, 2,200 of which were visibly oiled. They also recorded more than 600 dead sea turtles, 18 of which were visibly oiled, however, not all of the deaths were thought to have been caused by the oil spill. The article also reported that more than 150 dead dolphins have been washed up onto the shores across the Gulf, and that at least eight of them were smeared with crude oil that has been traced to BP's well. It is yet to be established whether the oil killed them.
A more recent report from the USFWS, entitled 'Deepwater Horizon Response Consolidated Fish and Wildlife Collection Report', published in January 2011, gave the following results, summarised in the table below. These recent figures are still quite similar to the earlier figures, suggesting not a lot more wildlife has been found dead since last year, but dead animals are still washing up on beaches. Furthermore, according to the National Oceanic and Atmospheric Agency (NOAA) some 60 miles of coastline remains polluted with oil and warned that some of the consequences of the spill may not be known for decades. NOAA also said that 87 sea turtles, all endangered, have been found dead since mid-March.
Summary Table compiled from Fish and Wildlife Collection January 2011 Report.
| | | | | |
| --- | --- | --- | --- | --- |
| Wildlife | Alive | Visibly oiled | Dead | Visibly oiled |
| Birds | 2085 | 2079 | 6124 | 2263 |
| Sea turtles | 535 | 456 | 608 | 18 |
| Mammals | 9 | 2 | 100 | 4 |
| Reptiles | 1 | 0 | 1 | 1 |
| Total | 2630 | 2537 | 6833 | 2286 |
It is not clear how many organisms on the sea bed has been affected. My search of Cabdirect using the terms deepwater horizon and environment returned 7 records, which subscribers to the CAB Abstracts database can access.  Of these, there is one by Thibodeaux et al. (2011) highlighting the knowledge gaps.
Link to The Guardian article
Link to 'Deepwater Horizon Response Consolidated Fish and Wildlife Collection Report'
Link to the Final Report on the Investigation of the Macondo Well Blowout, by the Deepwater Horizon Study Group, released in March 2011.
Further Reading
Thibodeaux, L. J.; Valsaraj, K. T.; John, V. T.; Papadopoulos, K. D.; Pratt, L. R.; Pesika, N. S. (2011) Marine oil fate: knowledge gaps, basic research, and development needs; a perspective based on the deepwater horizon spill. Environmental Engineering Science, Vol. 28 No. 2 pp. 87-93.
Picture of dead dolphins washed to the Gulf shores, from sodahead.com