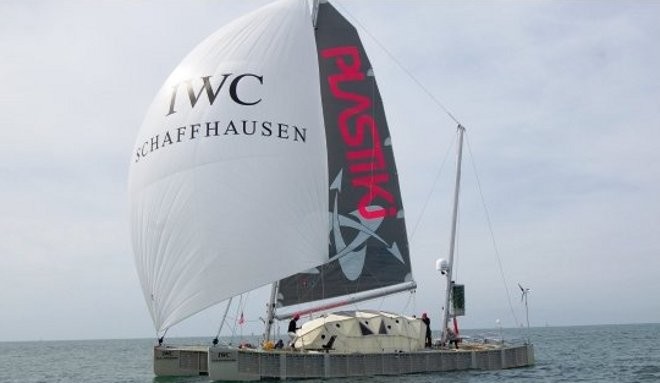 Plastiki departing from San Francisco-photo by Catherine Sparks
How about a 20-metre catamaran? That's what British adventurer and environmentalist David de Rothschild and his crew of scientists and ecologists are sailing on, from San Francisco to Sydney since mid-March. Read on to find out more about the Plastiki and the expedition.


The Plastiki is home-made almost entirely of waste plastic bottles and other recycled plastic material, woven into self-reinforcing polyethylene terephthalate (PET), i.e. tied together by a very strong webbing mesh.
 
Since leaving San Francisco in mid-March, the Plastiki has travelled nearly 7,000 nautical miles. At the moment the vessel is moored in New Caledonia and is expected to continue the final leg of the 13,000 km journey soon. The vessel had stopped two weeks ago at Samoa, where repairs to the structure were made, after it was found that beams supporting the catamaran had buckled and were out of place. To find out more about the Plastiki, please visit (http://www.theplastiki.com/).
The expedition is led by 31-year-old British adventurer and environmentalist David de Rothschild, a descendant of England's Rothschild banking dynasty. It aims to highlight the growing amount of plastic waste and other pollution entering the world's oceans and to spur public debate on finding ways to turn the waste into a useful resource. Other issues highlighted are overfishing and climate change.
De Rothschild created a web portal Adventure Ecology, which is aimed at educating children on environmental issues. It includes classroom lesson plans, reports on de Rothschild's expeditions and a gateway for children to learn about global environmental problems, play ecology-oriented video games and chat with other Adventure Ecology Club members around the globe. It uses daring expeditions to inspire interest in environmental issues among schoolchildren. "We can make saving the planet an adventure," de Rothschild explains. "I want to make it so engaging, fun, and fascinating they want to get involved."
De Rothschild said that "If someone you love has a health crisis, you'd research, find the best doctors, the latest cures, whatever it takes to get that person healthy again. Well now our planet has a health crisis. But are we really doing everything we possibly can? If we fail, there's no second chance."