During our daily job of searching through journals for articles to add to CAB Abstracts database we came across an article all about entomotherapy (use of insects for medicinal purposes) in tribal communities in Arunachal Pradesh, India. So I'd like to add entomotherapy to the long list of benefits of insects in my blog on Monday. The authors of the article interviewed 100 people, mostly local healers, herbalists, elders, farmers and midwives from different ethnic groups. Here's a list of the top insect species used in therapeutic activities. A quick warning: it makes for pretty gruesome reading (reminds me of a Roald Dahl book…) so make sure you haven't just eaten!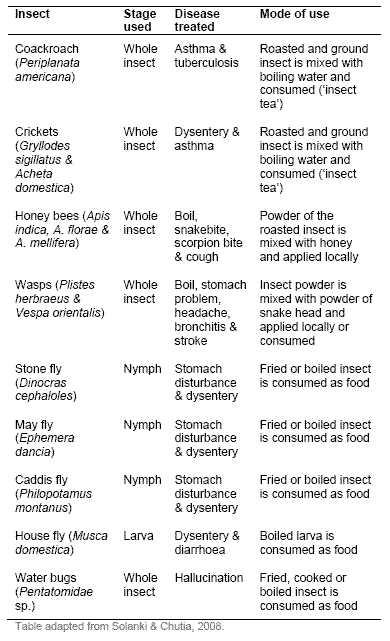 Another article did a similar study in Korea in the 1990s and found that centipedes (Scolopendra spp.) used primarily to treat arthritis and the silk moth fungus (Beauveria bassiana, which infects silk moth larvae) used mostly to treat stroke, were the most frequently prescribed and medically important arthropod drugs. Folk logic appears to be the basis for some arthropod drug uses, eg. centipedes, which have many legs, are used for leg problems, but many of the arthropods have venom and other defensive chemicals which are biologically active. This article claims that "the South Korean use of arthropods as drugs (as well as for food and enjoyment) is due, in part, to more positive attitudes towards these animals compared to many cultures."
So, what do you think? Should we be exploiting insects more as a source of drugs for modern medicine?
References:
Solanki, G. S.; Chutia, P. (2008) Entomotherapy in tribal communities in Arunachal Pradesh. National Journal of Life Sciences 5 (2), 281-284. (The abstract for this article will be appearing shortly on CAB Abstracts)
Pemberton, R. W. (1999) Insects and other arthropods used as drugs in Korean traditional medicine. Journal of Ethnopharmacology 65 (3), 207-216. (Abstract on CAB Abstracts now)