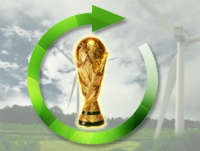 As this year's biggest world sporting event 'the FIFA World Cup 2010' opened today in sunny South Africa, I couldn't help but wonder 'how 'green' is this major sporting event?' It turns out it might be greener than I thought! Read on to find out why!
An initiative to green the FIFA World Cup and
help reduce carbon emissions was launched this week in Johannesburg, South
Africa. This was a joint effort by the United Nations Environment Programme
(UNEP), the Global Environment Facility (GEF) and the South African Department
of Environmental Affairs (DEA). The project entitled "Reducing the Carbon
Footprint of Major Sporting Events, FIFA 2010 and the Green Goal", aims to leave
a lasting legacy that will be continued by the city after the tournament, to
save energy consumption by adopting renewable energy and energy efficiency
practices.
The three major greening projects are:

renewable energy interventions in six World Cup host cities, funded by
GEF;
a drive to raise awareness on green tourism, also funded by
GEF;
a UNEP programme to offset the carbon emissions of 11 World Cup
teams.
A total of US$1 million funding is going toward renewable energy-powered public street
lights, traffic lights and billboards around the stadiums of six host cities
(Pretoria, Johannesburg, Port Elizabeth, Polokwane, Rustenburg and
Bloemfontein). This means 12 billboards, two in each city, as well as 60 traffic
lights and 78 streetlights across the six host cities, will switch to solar
power.
On green tourism, a green passport project was created, which aims to
encourage visitors to make responsible travel choices whilst visiting South
Africa for the FIFA 2010 World Cup. The 'Green Passport', a 32-page booklet containing
greening tips and information on responsible tourism in each host city, will be
distributed to 100,000 World Cup spectators.
Various government departments, including DEA have identified five carbon
offset projects in order to assist towards offsetting travellers'' emissions,
comprising solar cookers, soil composting, LED energy efficient lighting, wing
energy and domestic fire lighting.
Achim Steiner, UN Under-Secretary-General and UNEP Executive Director, said:
"We are proud to work with GEF and the government of South Africa, the host of
this year's World Cup, to assist in greening one of the greatest sporting events
on Earth. The aim is to demonstrate that all sectors of society including major
sporting events can catalyze a transition to a low carbon, resource efficient
Green Economy. And in doing so make the players, officials and millions of fans
around the world inspired to be part of a winning sustainability team."
"Events like the World Cup present a unique opportunity to showcase
environmentally sound technologies and practices," said Monique Barbut, CEO and
Chairperson of GEF. "Our work with South Africa and UNEP to boost the level of
renewable power generated in the six cities supporting the games will have a
lasting local and global environmental impact long after the last whistle
blows." Good to know those of us who have concerns for the environment can now enjoy the games with a cleaner conscience!
I searched the term 'football' in cabdirect.org and my search returned 3,332 records on many aspects of football, including one by Desai and Vahed about the 2010 world cup entitled 'World Cup 2010: Africa's turn or the turn on Africa?' that discusses whether the world cup will be the moment 'when Africa stood tall and resolutely turned the tide on
centuries of poverty and conflict'. Subscribers to the database can follow the links to see these abstracts.
Photo credit: UNEP