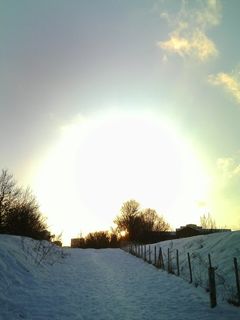 As I returned from a Southern Hemisphere holiday, where temperatures were nearly 40 degrees C, I was shocked by the unusually cold weather in the UK. The winters in the UK are usually much milder than this as we all know, so what is going on with the weather? If you don't know already, read on to find out and to read 10 top tips on driving safely during the snow period.
In most winters, especially in the past 20 years or so, winds reaching the UK normally came from the south-west. This meant the air had travelled over the relatively warm Atlantic and we got mild conditions in the UK. However, over the past three weeks the Atlantic air has been 'blocked' and cold air has been flowing down from the Arctic or the cold winter landmass of Europe (Met Office).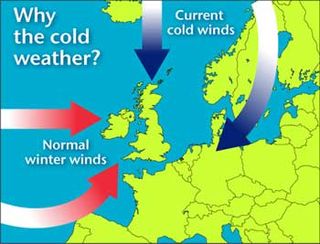 Diagram showing the reason for the cold weather
– courtesy of the Met Office
Has climate change a role to play on this sudden change on wind patterns?
The Met Office has said that 2009 as a whole was the 14th-warmest on record (since 1914) in the UK. This above average temperature trend was reflected globally, with 2009 being the fifth warmest year on the global record (since 1850). However, the current cold weather in the UK is part of the normal regional variations that take place in the winter season. It doesn't tell us anything about climate change, which has to be looked at in a global context and over longer periods of time.
The Environment Transport Association – ETA has issued advice and top tips to their members to take extra care whilst driving over the next few days. They said they have been inundated with calls from members who have experienced problems because of the weather.
Their advice is: only use your car if it is absolutely necessary and, if you have to drive somewhere, please read the following tips to help your make your journeys safer.

ETA top ten tips for driving in snow and ice
Consider investing in snow chains for your car tyres. They are quick to fit and cost £27.99 You can buy a set by following this link.
In slippery driving conditions avoid sudden acceleration and braking – driving as smoothly as possible will make it less likely that you slide and return better fuel economy, too. If you start to skid, gently lift your foot off the accelerator and steer into the slide.
Keep an 'emergency bag' in your boot containing two blankets, a bottle of water and some non-perishable, high-energy food such as chocolate.
Ensure your mobile phone is fully charged and that the number of your breakdown recovery service is stored in the memory. A wind-up emergency phone charger for your mobile costs £9.45 and is available to buy here.
It's important you can see and be seen so take time to remove any snow and ice from your vehicle's windows, headlights, brake lights and indicators.
Try to avoid leaving your car unused for days at a time during cold weather as batteries can run flat.
Try to keep a shovel in your car so that you can dig yourself out of trouble.
Breakdown cover: costs from just £24 – ensure you have cover in place.
Listen to local weather forecasts as road conditions can change fast. If you find yourself stranded in your car in snowy conditions, call for assistance and unless you are at risk of being struck by other vehicles, stay where you are.
Do not use cruise control in snowy or icy conditions.
My own top tip for the safety of pedestrians is: use a shovel and clear the snow off the pavement outside your own house please. I remember the 1980s when it used to snow more often in the winter in the UK and everybody, including shop owners in the town centre, used to do this – clear up the snow in the front of their houses/shops and pile it up. All you would see was snow mounds which people walked around.
Visit www.cabi.org/environmentalimpact to access the over 1000 reports, including many on what is contributing to climate change.
Main photo: Snow in Croydon – by Camilla Barbosa-Jefferson