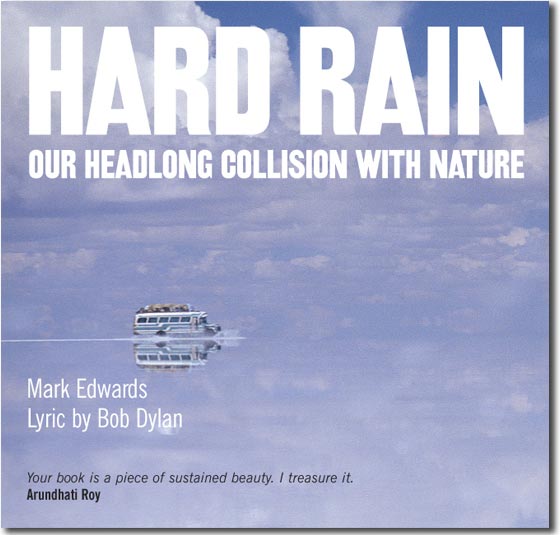 Each time I check my work email inbox lately, I find it's inundated with notifications, press releases and invitations to events during the COP15 Climate Change Summit in Copenhagen. One email, which caught my eye and prompted me to share it here, was a press release and invite to the launch of the film'Hard Rain' that will surely set the scene nicely for the summit. Bob Dylan's powerful, prophetic and legendary song, 'A Hard Rain's A-Gonna Fall', is surely set to become the unofficial soundtrack to the Copenhagen climate talks. Read on to learn more about the project.
'Hard Rain: Our Headlong Collision with Nature' by Mark Edwards and Bob Dylan will be released on DVD at the opening of the Hard Rain exhibition in Copenhagen today, 6 December, the eve of the United Nations Climate Conference.
The film, released in partnership with the UN Environment Programme (UNEP), combines a rare live recording of Bob Dylan performing the song, with the photographs from Hard Rain and an extended illustrated commentary, in a moving and unforgettable exploration of the state of our planet and its people at this critical time, reported the Hard Rain project.
The press release about the film continued saying "the global issues highlighted in Hard Rain are like pieces of a jigsaw puzzle that define the 21st century. While each problem is understood to some degree by decision-makers, they are typically addressed as separate issues. Hard Rain puts the pieces together and shows that the world has little chance to solve any one of them until we understand how they all connect by cause and effect."
The DVD is accompanied by a specially commissioned essay by Lloyd Timberlake. The Urgency of Now cuts through the muddled thinking and failed policies that have delayed a radically new worldwide approach to climate change, poverty, the wasteful use of resources, population expansion, habitat destruction and species loss. The essay title was inspired by a response to Hard Rain from the British Prime Minister Gordon Brown.
"If Hard Rain is a photographic elegy," said Mr Brown, "it is also an impassioned cry for change. Forceful, dramatic and disturbing, it is driven by what Martin Luther King called 'the fierce urgency of now' – and I believe the call for a truly global response to climate change is an idea whose time has finally come."
Achim Steiner, UN Under-Secretary-General and UNEP Executive Director, said: "The dark and evocative lyrics of A Hard Rain's A-Gonna Fall echo the kind of impacts the world faces if climate change continues unchecked. But Bob Dylan had another song. One that reflects a strong and positive Copenhagen outcome that puts the world on a low-carbon path – The Times They Are A-Changin'."
Lloyd Timberlake's essay focuses on a key dilemma facing the climate negotiators. "Right now," he writes, "we have two huge challenges to life on earth. One is living and consuming within planetary means. The other is helping billions of people toward safe, fulfilled and dignified lives, meaning that many people need to consume more, not less, to have a reasonable standard of living. These would seem to be contradictory goals. Yet we must manage both, and we cannot manage one without managing the other. Poor countries will not accept a climate change treaty that prevents them from developing."
"We have to give governments a constituency to reinvent the modern world so that it's compatible with nature and human nature," says Mark Edwards. "Political change comes only when people form a movement so large and inclusive that governments have no choice but to listen – and act. The last verse of Dylan's song begins 'What'll you do now?' It's a question that cannot be left hanging when the Copenhagen talks come to a close."
If you are in Copenhagen you might want to attend a Hard Rain-UNEP presentation by Mark Edwards at 5pm on 7 December at Salen bookshop, Politikens Hus, Porten, Vestergade 28, Copenhagen K.
The entry is free and all are welcome. The event is followed by questions and discussion.
Details about the Hard Rain exhibition in Copenhagen
The Hard Rain exhibition in Kongens Nytorv, Copenhagen on 6 to 18 December 2009 is presented by the United Nations Environment Programme and Hard Rain Project.
The DVD launch and exhibit opening on 6 December will take place just before the start of the United Nations Climate Conference, COP15, which runs from 7 to 18 December 2009 in Copenhagen.
The exhibit is part of a UNEP display, open free to the public for the duration of the UN Climate Talks, which will feature a Climate Maze that people can come and "negotiate" their way through. The walls of the maze are made from cloth banners stamped and signed by thousands of citizens around the world in support of the UN-led Seal the Deal! campaign, which asks world leaders to conclude a fair and effective climate agreement in Copenhagen. Complementing the Hard Rain commentary, the maze also contains climate change facts from UNEP in order to raise awareness about climate change.
Further venues for the exhibition
The Hard Rain exhibition is also at St Martin-in-the-Fields, Trafalgar Square, until 31 December. Exhibitions and presentations are also planned for Amsterdam, Bangalore, Kolkata, Melbourne, Mumbai, New Delhi, Stockholm and the Danish Museum of Science and Technology, Helsingør.
See www.hardrainproject.com  for more details. 
Visit the COP15 or the UN web pages to find out what goes on during the 12 day climate summit.
Visit CABI's Environmental Impact website to see over 1000 reports on global warming, climate change, it's causes and effects.