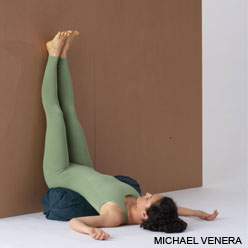 I am a keen yoga follower, who practices yoga regularly, including Tuesday's lunchtime class here at CABI. I also receive daily yoga insights from the Yoga Journal giving tips on poses to try at home. I thought I'd share today's tip on Viparita Karani or 'legs-up-the-wall pose' with the 'handpicked' readers, as it is a very relaxing pose and, it turns out to be also a useful pose to practice for health. Read on to learn why!
Many yoga teachers believe that Viparita Karani is good for almost
everything that ails you, including anxiety, arthritis, digestive problems,
headache, high and low blood pressure, insomnia, migraine, mild depression,
respiratory ailments, urinary disorders, varicose veins, premenstrual syndrome,
and menopause. Something to try whenever you can't get to sleep!
Not only that, but Viparita Karani is also one of the most relaxing yoga postures there is – and all you need is a wall to take advantage of its healing benefits.
Here is how it's done:
Sit sideways at the wall, with one hip close to it and your legs
drawn into your chest. Roll onto your back with your legs bent, letting your
buttocks come to the wall. Then straighten your legs up the wall. If your
buttocks don't quite touch the wall, lift your hips by pressing with your feet,
slide closer, and lower your hips. If you have tight hamstrings, your legs will
not meet the wall. (If that's the case for you, try bending your knees and
letting your heels soften into the wall.) Stay here until you feel calm and
relaxed. You can also see instructions here on an even more relaxing way of
doing Viparita Karani, as in the above photo.
I also searched the CAB Abstracts database to see what we have on
Yoga and I found 125 records in Cabdirect, including one by Sanchari Sinha et al. (1), which examined whether or
not yoga can decrease oxidative stress during exercise. They conducted the
study on 51 healthy male volunteers from the Indian Navy. The soldiers trained
for 6 months on a yoga schedule consisting of prayers, asana, pranayama and
meditation. The control group continued with regular army training. Their results
showed a significant increase in the total antioxidant status of the yoga
individuals' body and they concluded that yoga can maintain or improve antioxidant
level of the body. According to the authors, the relevance of this is that yoga
practice can be used to maintain the antioxidant defence system under stressful
conditions of training in the case of soldiers and athletes. A number of
studies also showed positive effects of yoga on obesity prevention (See 2, 3 for example).
References

1-
Sanchari Sinha; Singh, S. N.; Monga, Y. P.; Ray, U. S. (2007). Improvement of glutathione and total
antioxidant status with yoga. Journal of
Alternative and Complementary Medicine, 13, 10, pp 1085-1090.

2- McIver, S.; McGartland, M.;
O'Halloran, P. (2009)"Overeating is not about the food": women
describe their experience of a yoga treatment program for binge eating. Qualitative Health Research, Vol. 19, No.
9, pp 1234-1245.

3-
Guarracino, J.L.; Savino, S.; Edelstein, S. (2006). Yoga participation is beneficial to
obesity prevention, hypertension control, and positive quality of life. Topics in Clinical Nutrition, Vol. 21 No.
2 pp. 108-113.