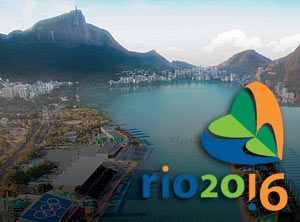 Photo credit: oglobo.com

A week ago,
Brazilians were celebrating, after the International Olympic Committee
(IOC) announced, in Copenhagen, that Rio
de Janeiro was chosen as the city to host the 2016 Olympic Games,
beating Chicago, Tokyo
and Madrid.
The Brazilian President Lula cried with emotion, as he heard the news, and so
did many Brazilians in Copenhagen and in Rio. However, there was a lot more laughing, singing and
dancing than crying for the rest of the day. It will be the first time the
Olympic Games will be held in South America, which was one of the major factors
in Rio's favour. Christ the Redeemer really
seems to be watching over Rio lately, since only a month ago, Rio
came top as the happiest city in the world, in a survey by the economic
magazine Forbes (an online survey of
10,000 people in 20 countries). Some have questioned Rio's
infrastructure as an Olympic city. I must admit I always saw Rio
as a place with the most uniquely beautiful landscape, where you'd go to relax
in lovely wide and white sand beaches; where you play beach volleyball for fun,
but not a place for strenuous sports. However, at the same time, I can't see a
better place to relax after playing some strenuous sport. Now that we, Brazilians, have digested the news and calmed down, I have browsed through some Brazilian websites to see
what is in place already and any further plans to get Rio
ready for the Olympics. Read on to see a summary of my findings.

The Jacarepagua racing
circuit, the old racing temple, which held Formula 1 Grand Prix until 1980,
will receive new installations and will be the heart of the 2016 games, where
over 50% of the events will take place. A total of 12 of the games will
take place there, including swimming, hockey, basketball and judo. The 2016 games will also include rugby sevens and golf, bringing the total number of games' categories from 26 to 28. However, Brazilians
are already talking about the football events, obviously, which will probably
receive a high profile during the 2016 games, in a country which is world
famous for its football. The football events will be held not just in Rio, but
also in other Brazilian capitals (Sao Paulo, Belo Horizonte, Brasilia
and Salvador). The
football stadiums will have been prepared for the 2014 world cup games, which
are also going to be held in Brazil.
How about accommodation for
those going to Rio to watch the games? The
Brazilian news site (oglobo.com) reported that Rio
already has 22,500 rooms (half of the rooms needed) at Olympic standard. The
minimum quote of 40,000 should be attained by 2014 because of the football world
cup. There will be 50,000 rooms in hotels, apartments, villas and cruise ships
available by 2016, with temporary rooms in cruise ships amounting to 8,000.
There's also a plan to build four Olympic and media villages and five new hotels
in the area around Copacabana and Barra da Tijuca, which is famous for its
nouveau rich residents and its golden beaches. It is estimated that there will
be 10,000 more rooms than is expected by the IOC. There's even a plan to have a section of beach closed for exclusive use by athletes and a replica town centre. The article also mentions how
the effort to bring the existing infrastructure to Olympic standards and the
building of new ones will generate employment (50,000 temporary and 15,000
permanent jobs) in the area around Rio. Governor,
Sergio Cabral, says residents also stand to gain more metro lines, more trains,
and more sewage treatment plants.
It seems like Brazil
has the planning all sorted out. Well, they had to for the application procedure
to the IOC. As with all other countries that held the Olympic Games, Brazil promises
the 2016 games will be the greatest and best ever Olympic Games we will ever
have. I think Brazil will
deliver the best they can produce, and even other South American leaders
offered help, if needed, because after all it's the first time the games will
be in South America. Brazil might not have the vast amount of money
which London has spent in preparation for the
2012 games in London,
or have they? In the presentation, the Brazilian team estimated Brazil will
spend over US$14 billion with the games. As a true Brazilian, there's one thing
I'm certain about though, we have the enthusiasm, optimism, vibrancy and party
spirit to produce an amazing Olympic Games, which won't be forgotten.
Visit the CABI's Leisure
and Tourism product where you'll find around 1000 articles and abstracts on the subject of games,
including Olympic Games.