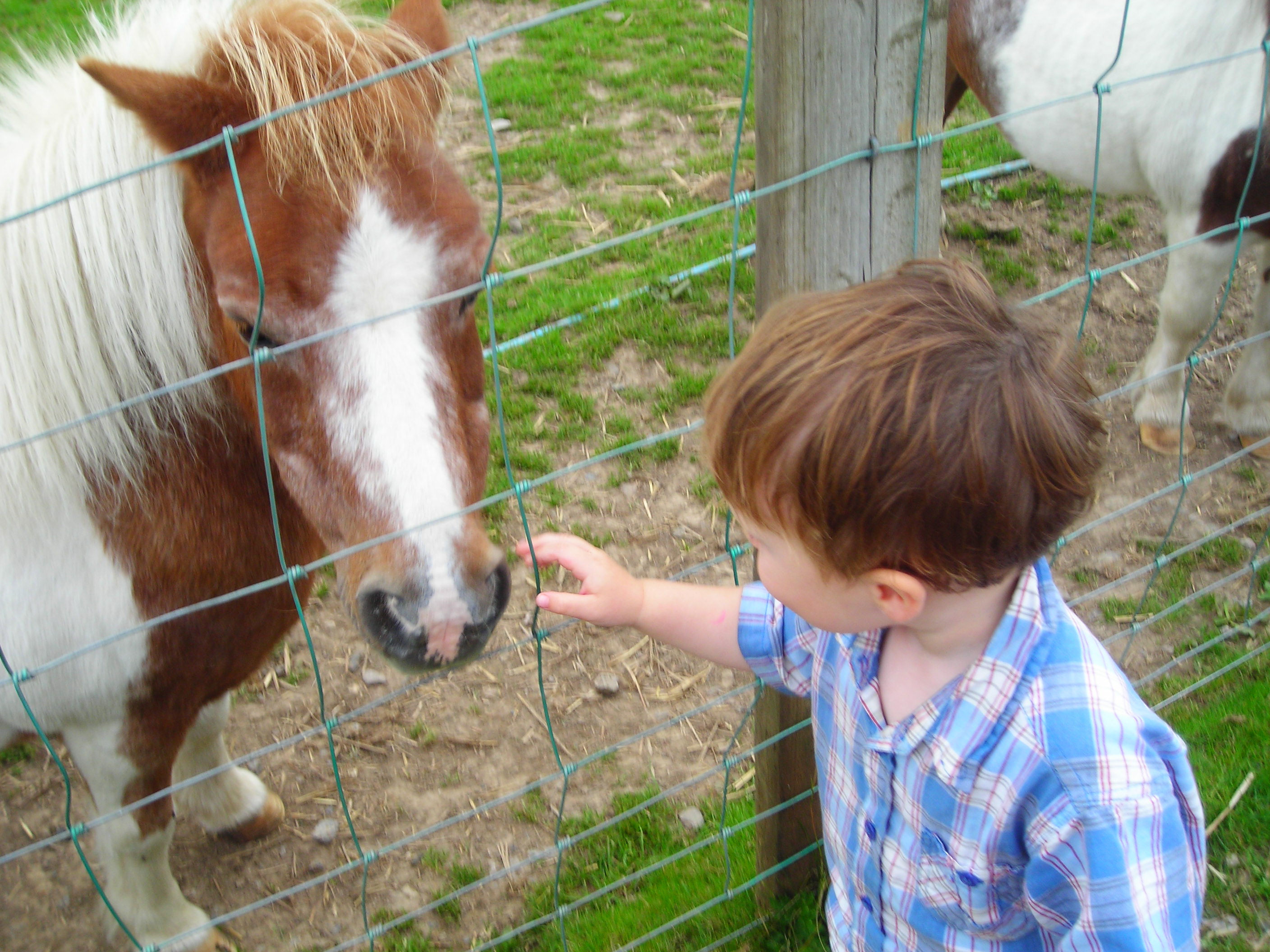 As a mother of two young boys, I have been following the coverage of the 'petting farm' E. coli outbreak with particular interest. As of 22 September, 74 cases of infection with E. coli O157 have been linked to Godstone Farm in Surrey.
Having visited two similar attractions this summer, I am now reflecting on my decision to take my 21-month-old as well as my five-year-old. While official guidance from the Department of Health is that contact with animals is fine as long as good hand hygiene is followed, Prof Hugh Pennington has expressed an opinion that under-fives should not touch the animals because of the risk that they might infect themselves (see BBC news).
Already knowing that young children are at greater risk of complications from E. coli infections (one of the many zoonoses facts I have learnt whilst working at CABI!), I was unsure at the beginning of the summer whether or not to take my one-year-old. However, with my eldest son thoroughly enjoying a school farm visit and keen to see some more animals, I made the decision to take the risk. On the first visit, I did manage to keep the youngest confined to the pushchair – just seeing the animals was enough of a novelty. However, by the second visit, he was desperate to get closer and I did allow him to touch one or two animals – which caused him to squeal with delight. Much hand cleansing followed – the two attractions we visited had plenty of hand gel at regular intervals, but fewer 'soap and water' washing points.
Since farm animals can carry E. coli O157 without showing any signs of illness, there will always be an element of risk when visiting an open farm. Issuing a veterinary perspective on O157, the British Veterinary Association (BVA) says that no good method has been identified to eliminate or prevent infection in livestock. [Although there are many records in the CAB Abstracts database on attempts to reduce shedding/prevalence of this bacterium. See ref 1 for a review of potential on-farm interventions]. Strict hand hygiene is therefore essential after contact with animals. BVA says that hands should be washed properly with warm water and soap and that gel wipes may not be adequate to remove all contamination.
Looking in the CAB Abstracts database for hand washing aspects, I came across a paper comparing soap and water with ethanol-based hand gel for reducing coliforms on the hands of exhibiters at an animal show. The conclusion was that both sanitation methods were similar in reducing the total bacteria and coliform counts2.
Another article I came across highlights the fact that E. coli O157 has the potential to persist for long periods of time on gates, stiles and other farmyard surfaces. Therefore these surfaces also pose a potential infection pathway particularly where there is a high risk of direct human contact, such as at petting farms3. Also documented in the CAB Abstracts database are many petting/open farm E. coli incidents, notably in the USA, but also in Canada, Japan, Netherlands, and the UK, and recommendations on preventing future incidents4,5,6.
While the Surrey outbreak has brought the risks of petting farms to the attention of the British public, there are undoubtedly many plus points for these attractions, particularly for older children. The BVA emphasizes that contact with animals is an important part of children's development and should not be discouraged, but it is important to recognise the risk that might be present and to take steps to ensure that it can be enjoyed safely.
Coincidently, some research recently released by Kingston University in London has highlighted how important farm visits can be for helping dispel ignorance and misconceptions about farming among primary school children. Report author Dr Frances Harris, from the Faculty of Science, is now calling for a new push to get more schools to take up these visits. (See: Perspectives on educational visits to farms: a report on research with farmers, teachers, children and parents).
So will I take my youngest to a petting farm again before he is five? With the summer all but over, a visit is less likely for a while anyway……..I have the winter to think about it.
Selected references from CAB Abstracts:
The Shiga toxin-producing Escherichia coli, their ruminant hosts, and potential on-farm interventions: a review. Vanselow, B. A.; Krause, D. O.; McSweeney, C. S. Australian Journal of Agricultural Research 2005 Vol. 56 No. 3 pp. 219-244
Comparison of a waterless hand-hygiene preparation and soap-and-water hand washing to reduce coliforms on hands in animal exhibit settings. Davis, M. A.; Sheng, H.; Newman, J.; Hancock, D. D.; Hovde, C. J. Epidemiology and Infection 2006 Vol. 134 No. 5 pp. 1024-1028
Persistence of Escherichia coli O157 on farm surfaces under different environmental conditions. Williams, A. P., Avery, L. M., Killham, K., Jones, D. L. Journal of Applied Microbiology 2005 Vol. 98 No. 5 pp. 1075-1083
Compendium of measures to prevent disease associated with animals in public settings, 2007: National Association of State Public Health Veterinarians, Inc. (NASPHV). Morbidity and Mortality Weekly Report 2007 Vol. 56 No. RR-5 pp. 1-13
Shiga-toxigenic Escherichia coli O157:H7 infections among livestock exhibitors and visitors at a Texas County Fair. Durso, L. M.; Reynolds, K.; Bauer, N., Jr.; Keen, J. E. Vector Borne and Zoonotic Diseases 2005 Vol. 5 No. 2 pp. 193-201
Petting zoo-associated Escherichia coli O157:H7 – secondary transmission, asymptomatic infection, and prolonged shedding in the classroom. David, S. T.; MacDougall, L.; Louie, K.; McIntyre, L.; Paccagnella, A. M.; Schleicher, S.; Hamade, A. Canada Communicable Disease Report 2004 Vol. 30 No. 20 pp. 173-180