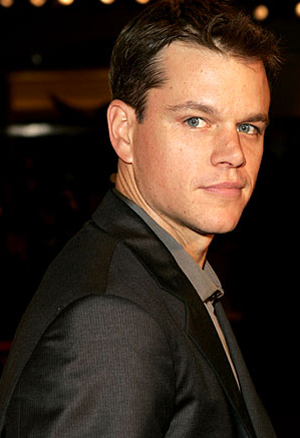 Matt Damon (actor and H2O Africa co-founder) and Gary White (WaterPartners
executive director and co-founder) have announced the launch of a new
organisation – Water.org – which is focused on improving access
to safe water and sanitation in the developing world. Water.org will help the
nearly 890 million people without safe water and the more than 2.5 billion
people without safe sanitation, said the press release.

Matt Damon is better known for his
acting roles in well known films, such as Good Will Hunting and Ocean's 11, 12
and 13, but he is also a long-time advocate for safe water issues. He explains
the importance of launching Water.org: "Every 15 seconds, a child in the
developing world dies from water-related disease. After visiting project sites
in Africa and Asia with Gary,
I've seen the problem and the impact of safe water." Damon said, "As
a clear leader in the sector at delivering innovative and sustainable solutions
for those in need, WaterPartners was the natural choice with whom to work to
truly affect lasting change."
Building on nearly two decades of innovation in the sector, Water.org will
work to champion innovative business models, local partner development,
improved project selection and oversight, and post-development monitoring and
evaluation. Executives of the two organisations expect the merger to also
improve efficiencies, leverage their respective grassroots awareness-building
expertise, and increase the overall social return on donations. To that end,
the organisation will launch a new website later this year that is designed to
bring unprecedented transparency and connectedness between donors and those in
need.
"For more than twenty years I've been working to realize the vision of
global access to safe water, and with the help of our donors, staff, partner
organisations, and the H2O Africa team, I'm confident we can accelerate our
impact," said Gary White, who will be executive director of the new
organisation. "It will open the door to advocacy work, and bring the water
issue to new heights in the public's consciousness."
It's good to see famous people getting involved in worthy causes such as
this. It would be great if a lot more people would put their fame to such good
use.
About Water.org
Water.org is a non-profit organisation whose founders have transformed
hundreds of communities in Africa, South Asia and Latin
America by providing access to safe water and sanitation. Founded
by Matt Damon and Gary White, Water.org works with local partners to deliver
innovative solutions for long-term success. Its microfinance-based WaterCredit
Initiative is pioneering sustainable giving in the sector. Water.org's
life-saving work is made possible by the support of its donors, including the
Open Square Foundation, PepsiCo Foundation, ONEXONE, the Skoll Foundation, and
the Michael & Susan Dell Foundation. To find out more, visit www.water.org
Photos/Multimedia Gallery are available at: http://www.businesswire.com/cgi-bin/mmg.cgi?eid=6006428&lang=en
If you want to learn more about water-related issues the CAB Abstracts database has around 10 000
items just on water safety alone.
Photo credit: Google Images and Water.org