I went to Toronto,
Canada, on a
week's holiday during the Easter break. I was actually
going to go camping in Devon, but changed my mind when the weather turned to
rainny and after coming across bargain flights offers to Toronto, where I have a couple of good friends who I've
been meaning to visit for many years (I will plant a few trees in the next few
months to offset my carbon footprint increase due to this trip).
One of the environmental good ideas I noticed while on a sightseeing walk was the Toronto
green bins, which comes divided into three compartments 'recycle-compost-litter'.
I saw them in every public place and in the streets. I also noticed that people
do use them properly. Read on if you want to find out about other green ideas I
discovered in Toronto
and to see a photo I took of a green bin in a covered market.
I also read an article in a tourist magazine I picked up,
which gave me the idea for this blog. The article by Gill Deacon, a Toronto based broadcaster
and author, highlights the many green features in the city. Since 2005 Torontonians
have also been separating the compostable food waste out of their garbage and
into the household green bin. The Green Bin Programme is a city-wide
initiative, with more than 500,000 single family households putting organic
waste into a municipal composting programme. One-third of the average
household's garbage is organic material, which can be processed into soil-enriching
compost. Gill Deacon pointed out that tree huggers have been advocating
backyard composters for years, as a way to divert waste from landfill and turn
it into free natural fertiliser while you're at it, but not everyone can make
that commitment. The city programme makes composting easy and as green bins are
collected weekly, while garbage is collected only biweekly and at a cost – the
incentive to put all that smelly organic matter into the right bin is huge.
Therefore, a third less waste is being trucked to faraway landfill sites, and
the resulting compost is used on city parks and nearby farmland. In my friends'
house, which is 3 minutes walk from peaceful Lake Ontario ,
I also noticed that households have a third bin for recyclables just like in
the streets, so in fact, only a third of the rubbish goes to landfill sites
nowadays.
Like Londoners, Torontonians benefit from a range of parks
with many trees. Thanks to a recent bylaw, all those green spaces are now
pesticide-free. In 2004, Toronto
became the largest municipality in the world to ban the cosmetic use of lawn
and garden pesticides. Homeowners, tenants, lawn-care companies, golf courses
and property managers are all subject to a fine of up to $5000 for applying
pesticides.
Most of us agree that the most eco-friendly way to get
around any city is on your own steam, on foot or by bike. Unlike many large
North American cities where the car culture reigns supreme and you can drive
for several blocks without spotting a single pedestrian, Toronto takes pride in its pedestrian
community. Again, the city has invested time and money to make it easier, safer
and generally more appealing to get around on foot, 10 new kilometres of
refurbished sidewalks are rolled out each year across the city, and most
traffic lights now feature countdown signals to improve pedestrian safety. I
found it very safe and pleasant to walk around downtown Toronto, although I did use the street car
(tram) or subway train to get there. There is a plan for a bikeway network to
be completed by 2012, which will include 1000 kilometres of bicycle lanes,
routes and paths, and every Toronto resident will live within a five-minute
bike ride of it.
The wackiest idea I came across in the article though was
the EcoCab, a hybrid taxi powered mostly by the
pedalling of the driver, except on uphill routes, wh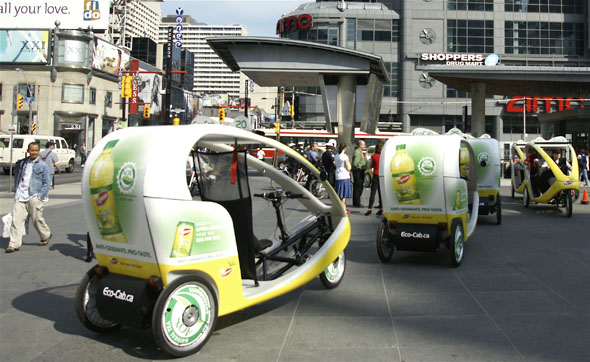 en a rechargeable electric
battery kicks in. They are sponsored by companies eager to prove their green credentials. There are 28 EcoCabs in the fleet, which will offer residents
and tourists short-distance, emission-free transportation between office
buildings, transit stations, shopping areas, restaurants and entertainment
attractions. They will be cruising in the downtown area from 22 April to
coincide with Earth Day.