The final day of the conference addresses the thorny problem of adapting to the inevitable impacts and examining the human dimensions of climate change.
I attended the morning opening session at which Professor Lord Nicholas Stern, author of the widely respected Stern Report published in 2006, gave a presentation on the economics of responding to the climate change threat.
He opened his presentation by stating that climate change is a "huge externality" in economic analysis being both global and far reaching. Therefore, it requires a different approach to analyse and formulate economic policy. He also pointed out that, in economic terms, it is a "flow-stock" problem where flows of emissions build up stocks of greenhouse gases – delay is also a major factor exacerbating the problem.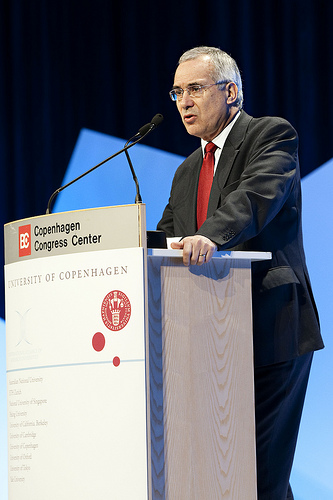 Commenting on yesterday's presentation by Professor William Nordhaus (Univ. Yale), Stern disagreed with his premise that +19ºC above pre-industrial levels will lead to a 50% reduction in GDP stating that this is "plain wrong"; future risk forecasting is inaccurate and doesn't take into account how much more costly environmental measures will be the longer we delay.
He urged scientists to impress upon policymakers leading up to COP15 in December about how difficult life will be at temperatures of +3, 4 or 5ºC over the next 50 years as there is a strong possibility that this will come about. To illustrate the point, the last time there was a similar magnitude temperature differential, in this case -5ºC, icesheets reached as far south as London.
Stern berated scientists for being too cautious and not sounding alarm bells sooner as it became apparent the probable extent of global warming. He is of the opinion that the effects of a 5ºC world should be more widely publicized as there is a "strong possibility of this devastating outcome". If people really understood the consequences then there would be more movement in the international community.
He was of the opinion that we understand what we have to do to offset the worst effects and now all that is needed is political will to commit to stringent emissions reductions.  An emissions quota of 2 tonnes per capita has been recommended by developed countries (but pointed out that, given their past history of contributing to greenhouse gas levels in the atmosphere, it should be zero). Europe needs an 80% cut to reach this 2 t/capita level while developing countries cannot be expected to take on emissions targets just yet but this needs to be kept under review.
Refreshingly, Stern was of the opinion that the developing world should be imposing conditions on developed countries, explaining how to live in a low emission society, and should lead the way given their strong position. He was also optimistic that the rate of technological development will increase as scientific minds are concentrated on this problem.
He brushed off gloomy predictions about the economic downturn affecting our ability to respond by saying it "should be easier in an economic crisis" – construction costs are lower particularly in incorporating energy efficiency measures. Also it should be cheaper to build the enhanced power transmission infrastructure needed to disseminate power from renewable energy sources.
At the press conference following his presentation he was asked by David Adams from The Guardian whether he thought that politicians had grasped the depth of the problem and whether he was disappointed with the political response so far. He replied saying that he was glad there had been some movement but wished there had been more. However, those that believe that the climate isn't changing are now intellectually and politically marginalized. He was of the opinion that it "will always take a while for scientific opinion to change political realities".
He felt that it was a tough ask for the US to cut emissions as they are so far behind after the Bush years but aiming for a cut to 1990 levels by 2020 was a good start, putting them on track for an 80% cut by 2050 as pledged by President Obama.
An really interesting morning and I am looking forward to hearing presentations rounding up the proceedings at the closing sessions of the conference due to start shortly.
(photo credit: Lizette Kabre)