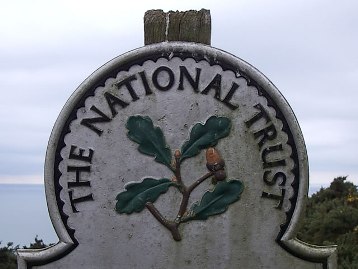 Last week, The National Trust announced that it would be making land available for 1,000 allotments over the next 3 years. This apparently equates to an estimated 2.6 million lettuces per year, 50,000 sacks of potatoes or £1.5 million worth of mixed produce1. With the increased popularity of growing-your-own, this will be welcome news to the 100,000 people reportedly on allotment waiting lists around the country. 40 different locations across England, Wales and Northern Ireland will benefit from the Trust's plan, so where do we go for such a golden opportunity?
Landshare was set up by Hugh Fearnley-Whittingstall and aims to become a "UK-wide initiative to make British land more productive and fresh local produce more accessible to all". The Trust allotments will be available in the spring via the Landshare website2. You can register as an aspiring grower, landowner, land-spotter or facilitator, supporting the elderly or other landsharers locally. There's still time to sign up before the initiative's launch in March/April.
The Director General of The National Trust, Fiona Reynolds said, "We already have allotments and active kitchen gardens at 50 of our properties and many of these already provide spaces for communities to come together and grow their own fruit and veg. But there's a huge demand for us to do more. We've taken the first steps to increase the amount of growing spaces available, and we are working with Landshare to encourage other landowners to do the same"1.
So now we know where to go, but how do we get started? Well, help is at hand. National Trust gardeners and garden volunteers are already in place at many of the Trust's properties to provide information about tending to allotments. The Trust is also calling for more volunteers to provide help and advice where needed1.
The BBC's environmental correspondent, Sarah Mukherjee, reported on the success story of Hughenden Manor, High Wycombe, Buckinghamshire, which boasts an 18th century walled garden, now a patchwork of vegetable allotments and raised beds. Other Trust sites already housing community allotments, or planning to, include: Gibside, Northumberland; Minnowburn, Northern Ireland; Wembury, Devon; and Craflwyn, North Wales3. The release of land will not only provide local communities with an opportunity to cultivate their own produce, but where there are plans for hedge and pond construction, and tree planting for example, such as at the Wembury site, local wildlife will benefit too.
If this has sparked a need to find out more about cultivated plants, why not check out 'Guide to Cultivated Plants' published by CABI and available from our bookshop.
References
1. National Trust, 2009. Trust helps fuel grow your own revolution. http://www.nationaltrust.org.uk/main/w-global/w-news/w-latest_news/w-news-growing_spaces.htm.
2. Mukherjee S, 2009. Trust frees land for allotments. http://news.bbc.co.uk/1/hi/sci/tech/7898314.stm.
3. National Trust, 2009. Some Trust allotment case studies. http://www.nationaltrust.org.uk/main/w-global/w-news/w-latest_news/w-news-growing_spaces/w-news-growing_spaces-casestudies.htm.