A report from India Reuters says the number of tiger attacks on people is growing in India's Sundarban Islands, possibly the largest mangrove ecosystem in the world. Seven fishermen were killed in the past six months in a location called Netidhopani, according to report by P. Sanuyal, from the World Conservation Union. The report suggests this could be put down to recent climatic change, but how?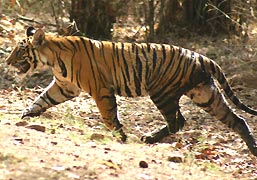 Tiger (photo from Google images)
Rising sea levels and coastal erosion are steadily shrinking the tigers' natural habitat. The Sundarban Islands, which cover an area of 38 500 sq km comprising low-lying swamps with many water channels, is the world's largest mangrove reserve and one of the most unique ecosystems in South Asia, recognised as a UNESCO World Heritage Site. A 28% reduction in the islands' habitat, part of which is the core tiger reserve area, in the past 40 years are put down to climatic change. As sea levels rise, two islands have already disappeared and others are vulnerable, as shown here. As the habitat shrinks the tiger's prey (crocodiles, fish and big crabs) migrate elsewhere, making the Sundarban a poor quality tiger habitat because of low prey densities, according to U. Karanth of the Wildlife Conservation Society of India. The entire island system is faced with a rapid loss of land area and embankments, flooding, and salinisation of drinking water.
Johnsingh and Goyal (2005) gave a brief history of the tiger (Panthera tigris tigris), which evolved in China and entered the Indian subcontinent through the Assam gateway tens of thousands of years ago, where they thrived in the forested habitats feeding on deer and wild pig. The first threat to the survival of the tiger came with the arrival of the British, who brought in matchlocks and rifles, as well as health care, enabling people to conquer diseases. The resulting rapid increase in human population led to the clearing of vast tracts of forests. However, the British also took several measures to protect forests, such as the enactment of the Forest Act of 1878, which highlighted the urgent need for saving forests and wildlife. It was under the British rule also that wildlife sanctuaries were first established.
Nyhus and Tilson (2004) showed that large mammal populations theoretically are best conserved in landscapes where large protected areas are surrounded by buffer zones, connected by corridors, and integrated into a greater ecosystem. Multi-use buffer zones, including those containing complex agro-forestry systems, are promoted as one strategy to provide both economic benefits to people and conservation benefits to wildlife. Sundarban villagers enter islands earmarked as tiger territories on boats, going against official rules, to fish in the sea or to collect honey in forest areas. This habit makes them vulnerable and places them in a position of prey to the estimated 400 tigers population, which suggests there is a need for a buffer zone.
There were around 40 000 tigers in India a century ago, but according to a recent government census, the tiger population has fallen from 3642, in 2002, to 1411 mainly due to dwindling habitat and poaching. As sea levels rise, mangroves have been exposed to salt water and many plants have been lost, exposing tigers to poachers. This suggests that Nyhus and Tilson's theory of a need for a buffer zone is true. In this way, both the hunter and the hunted will be protected.
References
Johnsingh, A.J.T., Goyal, S.P. (2005). Tiger conservation in India: the past, present and the future. Indian Forester, Vol. 131, No. 10, pp. 1279-1296, many refs.
Nyhus, P., Tilson, R. (2004). Agroforestry, elephants and tigers: balancing conservation and practice in human-dominated landscapes of Southeast Asia. Agriculture, Ecosystems & Environment, Vol. 104, No. 1, pp. 87-97, many refs.