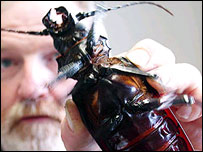 A long, long time ago in a land far away, lived giant beasts stomping, scurrying and soaring over the earth. No, not a fairy tale but an image of life on earth around 290 million years ago before the climate continued to change, oxygen levels decreased and animals shrunk in size and long before humans came along.
In the late Carboniferous and early Permian, fossil evidence shows that most insects were much bigger than they are today. For example, Meganeura, a carboniferous dragonfly, had a wingspan of 75 cm and Ramsdelepedion schusteri, a carboniferous silverfish, was 6 cm long! Today, the largest insects include the Goliath beetles (Goliathus), which measure 5–11 cm in length as adults, and can reach weights of up to 80-100 g in the larval stage, Titan beetles (Titanus giganteus), which grow up to 16.7 cm in length (or 21 cm including antennae), the Titan stick insect (Acrophylla titan) with a body length of up to 50 cm and some butterflies and moths which have wingspans up to 28 cm. But why did the insects shrink?
There are a few evolutionary hypotheses for the decrease in size of the insects:
climate change – as oxygen levels decreased, it became more difficult to get enough oxygen to all the tissues via spiracles and diffusion alone.
the weight of an insect's body at moulting might be greater than the soft cuticle could bear, and, being vulnerable to predators, they would probably have to hide.
the appearance and rise of vertebrate predators, e.g. reptiles made it an evolutionary advantage to get smaller to avoid predation and radiate into all the available empty niches.
A recent paper published in PNAS by Kaiser et al. lends extra support to the climate change hypothesis…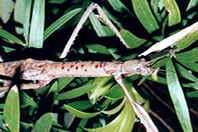 The argument goes that high oxygen levels in the Paleozoic (543-251 million years ago) atmosphere enabled animal gigantism, and the subsequent reduction in oxygen levels from 35% then to 21% now drove a reduction in body size because, in the case of the insects, the diffusion distance from the spiracles to the tissues at the centre of the body was too big to get the required oxygen to the tissues fast enough at these lower oxygen concentrations. A smaller body with a larger surface area to volume ratio gives a smaller diffusion distance from the spiracles on the cuticle through the air sacs into large tracheae and then into finer tracheoles which connect with the tissues. So maybe we have climate change to thank for the small size of our insects today – thank goodness!
Kaiser et al. used synchrotron x-ray phase-contrast imaging to visualise the tracheal system and quantify its dimensions in four species of darkling beetles varying in mass by 3 orders of magnitude. They were surprised to find that, in contrast to vertebrates, "larger insects devote a greater fraction of their body to the respiratory system, as tracheal volume scaled with mass1.29." What's more, they found that the legs may be the limiting factor – "the cross-sectional area of the trachea penetrating the leg orifice scaled with mass1.02, whereas the cross-sectional area of the leg orifice scaled with mass0.77." With increasing body mass the insects were literally running out of leg room for the tracheal system. When oxygen supply was higher during the late Carboniferous and early Permian, the tracheae could be smaller, which may have allowed the evolution of giant insects as limbs could reach larger sizes before the tracheal system became limited by spatial constraints.
So, why didn't the insects just evolve modifications such as sac-like air pumps to enable them to retain their large size? We already know that caterpillars possess quite a sophisticated gaseous exchange system equivalent to the vertebrate lung – it seems that some unusual tracheal tufts in the rear end of many caterpillars' bodies function pretty much in the same way as lungs. Further studies may show that this system is common to the Lepidoptera and may even occur in other orders. In the words of Jon Harrison, one of the authors, "One thing comparative biology has taught us is that evolutionary innovation tends to allow life to overcome physical limitations."
Sources:
– McGavin, G. C. (2001) Essential Entomology: an order-by-order introduction. Oxford University Press, Oxford, UK, vi + 318 pp.
– Kaiser, A.; Klok, C. J.; Socha, J. J.; Lee, W. K.; Quinlan, M. C.; Harrison, J. F. (2007) Increase in tracheal investment with beetle size supports hypothesis of oxygen limitation on insect gigantism. Proceedings of the National Academy of Sciences of the United States of America 104 (32), 13198-13203.