Agriculture has traditionally dominated Afghanistan's economy as it accounts for the source of livelihood of 70% of the country's population. In 2019, Afghanistan recorded a share amount of 401910.25 million AFN (~$5,216.24 million USD) from the agriculture sector in GDP, highlighting the potential of this sector to uplift the country's economy.
Keeping in view the importance of the agriculture sector, the Ministry of Agriculture, Irrigation and Livestock (MAIL) is focusing on developing and modernizing the agriculture sector. Main areas of focus include promoting of high-value economic crops, strengthening traditional products, boosting cooperative programs, improving agricultural economics, and enhancing market access for export products.
In the past two decades, MAIL has made considerable progress in establishing orchards over an extensive area in Afghanistan and boosted agricultural productivity opening the doorways for export.
However, market access is critical for Afghanistan's agricultural products as there are restrictions and standards by importing countries. To facilitate trade and improve market access, MAIL along with its technical division, the Directorate of Plant Protection and Quarantine (PPQD), has a dire need to develop a reliable system of sanitary and phytosanitary (SPS) measures.
Over the last decade, CABI has supported the capacity building of the agriculture department of Afghanistan and implemented many programs that have a beneficial impact in the country.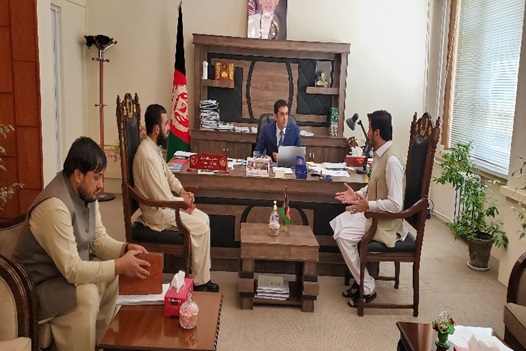 CABI has recently joined hands with the US Department of Agriculture's Foreign Agricultural Service (USDA-FAS) andUS Agency for International Development (USAID) to support the Government of Afghanistan (GoA) under the project entitled 'Improving Sanitary and Phytosanitary trade compliance in Afghanistan.' The project intends to improve the understanding and capacity of GoA and regulatory agencies to comply with SPS international standards.
CABI's main role is to provide liaison and capacity support to MAIL, PPQD, and other related ministries and private sector stakeholders. The CABI team has already met with Mr Mahbabullah Nanag, Deputy Minister of Agriculture (MAIL), Mr Mirjan Hemat (Director, PPQD), and Mr Sardar Ali Abassi (Head of Quarantine and Plant Protection, PPQD).
The CABI team provided an overview regarding the scope of the current project including technical assistance for the PPQD staff, and highlighted the importance of prompt harmonization of international standards for improving trade in Afghanistan.
Additional Information:
Main photo: CABI Team with Head of Quarantine and Plant Protection (PPQD) Mr Sardar Ali Abassi (Credit: CABI).
Author
Dr Muzammil Farooq, Project Manager
Contributors
Zakria Faizi
Habibullah
Atiqullah
Donors
United States Agency for International Development (USAID)
United States Department of Agriculture, Foreign Agricultural Service (USDA-FAS)
Partners
Plant Protection and Quarantine Department (PPQD)
Ministry of Agriculture, Irrigation and Livestock (MAIL)
For more information, please contact:
MaryLou Carlson
USDA FAS
202-690-1817
marylou.carlson@usda.gov
Dr Muzammil Farooq
CABI
+92 (0)51 8434979
m.farooq@cabi.org
Related News & Blogs
Trade is a basic component of economic development and a major portion of development assistance comes under 'aid for trade'. However, trade brings risks as food shipment can transport insects and diseases threatening agricultural production, human and…
21 September 2020